Wooden Shutters
Wooden shutters will always be the first choice for an authentic and elegant look. Nothing quite beats the stylish finish of sustainable, natural wood.
Our wooden window shutters are made from the finest quality timber, giving you a durable and hardwearing finish that will keep its beauty for years to come.
Find out how American Shutters can transform your home
Wooden window shutters
There's no doubt that wood shutters are a beautiful addition to any home. When most of us think of plantation shutters, we're imagining them in the traditional wooden finish. There are few window treatments as sophisticated and stylish as wood window shutters. There's just something about the pure, natural material of wood that beats other options every time.
Wooden window shutters UK
When you're researching wooden shutters UK, there's one good place to start. The British Blind and Shutter Association (BBSA) is the UK trade association for shutters, blinds and awnings. They give impartial advice about window treatments, and their website is a great source of information about wood shutters UK. The website outlines all the benefits of internal wooden shutters, from improved insulation and reduced glare to considerable energy savings.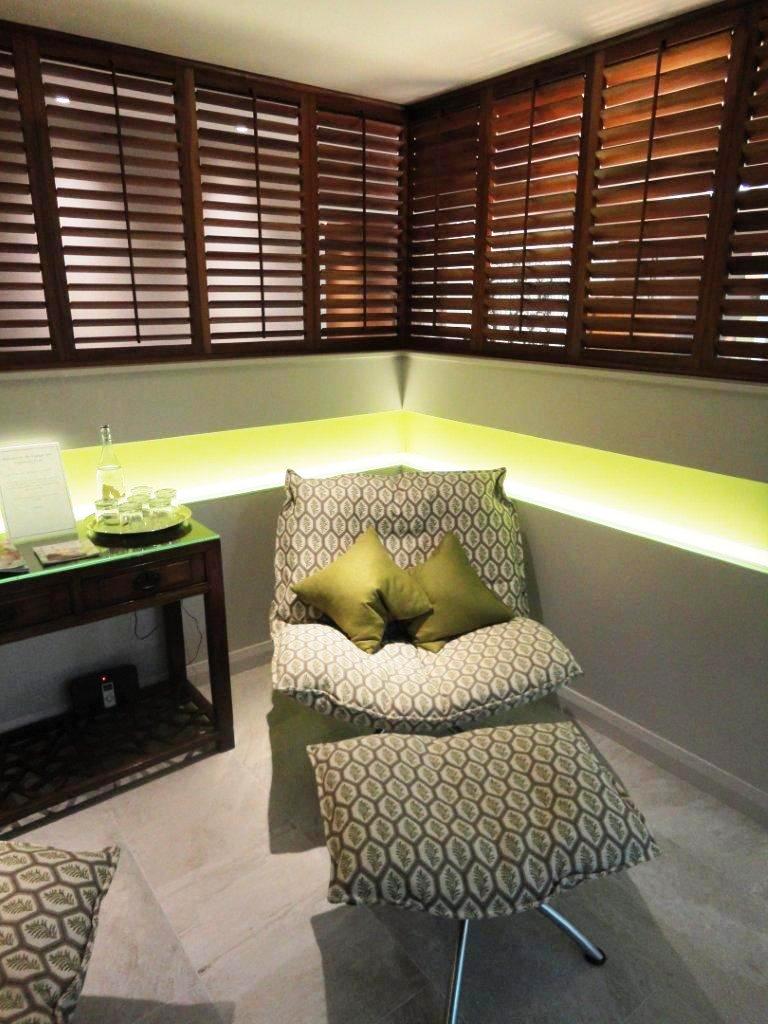 Interior wood shutters
Traditionally, shutters used to be placed on the outside of large plantation homes in true 'Gone with the Wind' style. However, now you'll find that indoor wooden shutters are the fashionable choice. Whether you choose traditional shutters, the more modern portobello style, or even solid shutters, they are almost always placed inside the home.
Internal wooden shutters are great at keeping rooms warm in winter and cool in summer, making them the ideal choice for our temperate climate. In terms of cost-efficiency, interior wooden shutters are definitely the most practical solution. When you're considering wooden window shutters interior, you'll find they prove to be both a beautiful and functional solution.
Wooden shutters for bay windows
Wooden window shutters are the ideal choice for period homes with feature windows. The wooden shutters bay window option is particularly popular as the shutters can be mounted to fit the shape of the bay. This allows your wood shutters to retain the original outline of the window, making it a natural feature of the room. Wood is the obvious choice for bay window shutters, complementing the windows with a traditional and classic look that preserves the integrity of your period home.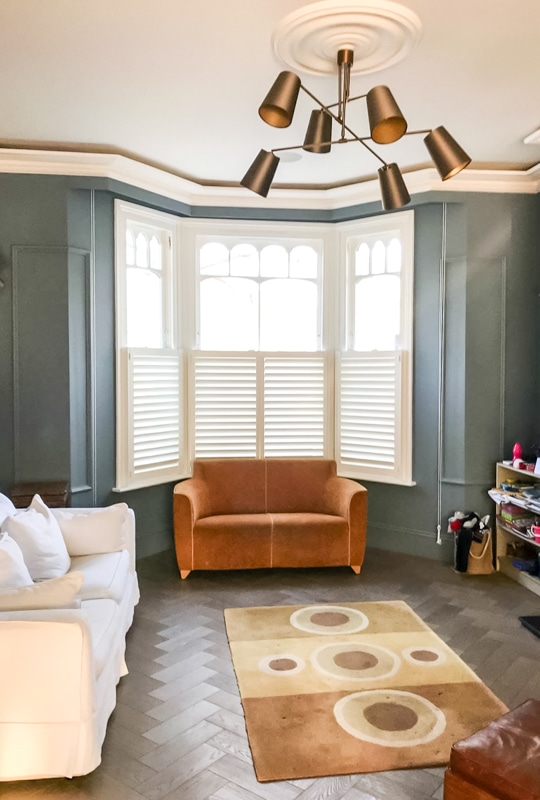 Wooden shutters for patio doors
It's not just windows that can benefit from the beauty of wood shutters. Wooden interior shutters are ideal for sliding doors, bi-fold doors and all kinds of patio doors. Patio door shutters are a sleek and practical solution for conservatories and garden rooms. The interior wooden shutters can be installed on tracks, allowing them to slide with the door for the ultimate convenience. Wood shutters are also ideal as room dividers, giving a level of privacy and light control without requiring a complete redesign of the room.
Hardwood shutters
When you're researching wooden shutters for windows, you'll want to make sure you select the best type of wood. Authentic hardwood shutters are renowned for their style and performance. This premium wood has exceptional longevity, offering a high-quality product that offers great durability. It's easy to clean, dents are simply fixed and it is considerably stronger than softwood options for wooden window blinds and shutters. Hardwood timber is available in a range of colours and finishes, making it suitable for any contemporary home.
White wooden shutters
When it comes to colour choices, white window shutters remain on top of the colour charts. Colour trends may come and go, but white is always the most popular option. Why? Because, as the ultimate in neutral colours, white wooden shutters will blend seamlessly into any home. White brings brightness to the room, creating a crisp, fresh feeling that accentuates the light and space. Whether you're considering white wooden shutters for bay windows or white wooden window shutters for a modern home, you'll definitely be on the right track. White wood is a timeless, classic choice that will never go out of style.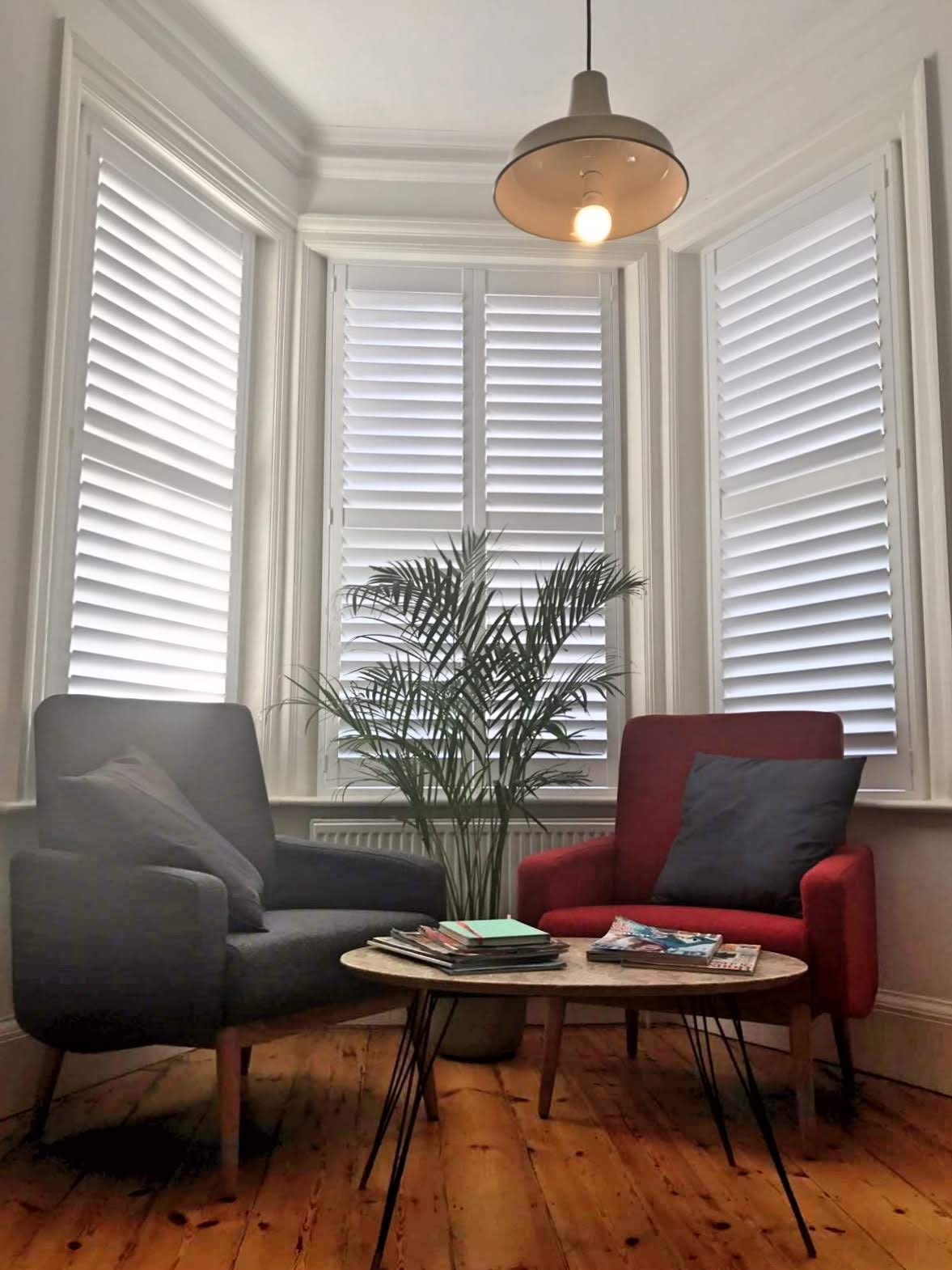 Finishes for wooden shutters
Your wood shutters can be painted, stained, sandblasted or finished in a variety of ways. If you choose to paint them, you can either opt for the ever-fashionable white wooden shutters or choose a paint colour that matches your interior décor. Stained shutters are a chic option and come in a variety of shades to complement your existing furniture and fittings. Driftwood shutters and reclaimed wooden shutters are also popular options in the UK, giving a natural, bohemian feel to your home. In addition, we offer a range of alternative finishes for your wood window shutters including fabric, faux leather or faux suede coverings.
Wooden shutter styles
Our interior wood shutters come in a wide variety of styles to suit every home. Whether you're looking for full height shutters to cover your windows completely, or cafe style shutters that just cover the lower half, wood is the perfect material for these designs. Tier on tier shutters are also a highly popular choice of indoor wooden window shutters, allowing for maximum flexibility of light control and privacy.
Wooden window shutters are an excellent option for all room types. They are particularly suitable as bedroom shutters, where you can select a special room darkening design for full darkness and privacy when required.
Faux wood shutters
There are occasions when you might want to consider an alternative to indoor wooden window shutters. Our water-resistant shutters are ideal for rooms where there is excess moisture in the air. Wooden shutters are not the best choice for wet rooms and bathrooms, or outdoor rooms such as garages, sheds and outbuildings. For these rooms, you want to choose durable shutters that won't warp or distort in humid conditions. Faux wood shutters or plastic shutters that look like wood are made from high-quality UPVC. They look just as beautiful as wood window shutters and are the perfect choice for humid and outdoor areas.
Wooden shutters cost
When you're researching wooden shutters for sale, the obvious question is going to be price. You'll need to think about the size of your windows, both height and width, to get an idea of the overall cost. While you may think that the wooden shutters price will work out expensive, the actual cost of wood shutters may be a pleasant surprise.
While wooden shutters for windows may seem like a luxury option, they are an investment worth exploring. They will not only reduce your heating bills with their fantastic insulating properties, but they will also protect your home and furnishing from sun damage. Internal wooden shutters are very hard wearing and require minimal maintenance. You'll find wood shutters will earn their keep many times over.
Transform your home with shutters