Bedroom Shutters
When you need total control over light and privacy levels, it's hard to beat window shutters for their ultimate flexibility. You can begin the day with a bedroom flooded with light, angle the louvres for privacy, and then close them at night for a full blackout experience. Made to measure bedroom shutters offer the perfect combination of good looks and practicality.
Find out how American Shutters can transform your home
Five reasons to use bedroom shutters
1. They keep out the light
When it comes to your bedroom, you want full control over the light levels in your room. Bedroom shutters provide an excellent solution. With just a touch of the slats, you can plunge your bedroom or nursery into complete darkness, giving you a restful night's sleep, even on light summer evenings. Our room darkening bedroom shutters have been designed to provide a total blackout solution.
2. They keep out the noise
Don't underestimate the noise-dampening effect of bedroom window shutters. Whether you live on a busy road or have planes flying overhead early in the morning, the solid barrier provided by quality wooden shutters will effectively reduce the noise levels in your room.
If you're really troubled by noise, consider classic solid shutters. Simple and traditional in design, they offer excellent noise-reduction properties.
3. They ensure your privacy
Bedrooms are a place of privacy and relaxation. If your windows are overlooked by neighbours or passers-by, you'll find bedroom shutters provide the answer you've been looking for. You can instantly close the slats on your window shutters for complete privacy when you need it most. Opt for full height shutters that cover the full height of the window and are tailor-made for a perfect fit without gaps.
4. They are ideal for allergy suffers
The bedroom is a place of particular concern for allergy sufferers. Many people find their symptoms get worse when they go to bed, and dust mites are a common issue. Unfortunately, curtains are often one of the main culprits, providing a place for dirt and dust to hide. Wooden bedroom shutters offer a clean and hygienic alternative and can be easily wiped down with a damp cloth to provide a dust-free zone.
5. They control the temperature
A good night's sleep is very dependent on the temperature of your bedroom. You'll find bedroom shutters help to maintain an even temperature, whatever the weather outside. When it's cold, bedroom window shutters will block draughts and provide an extra level of insulation. And on hot summer nights, you can adjust the slats to allow air to circulate without compromising security or privacy.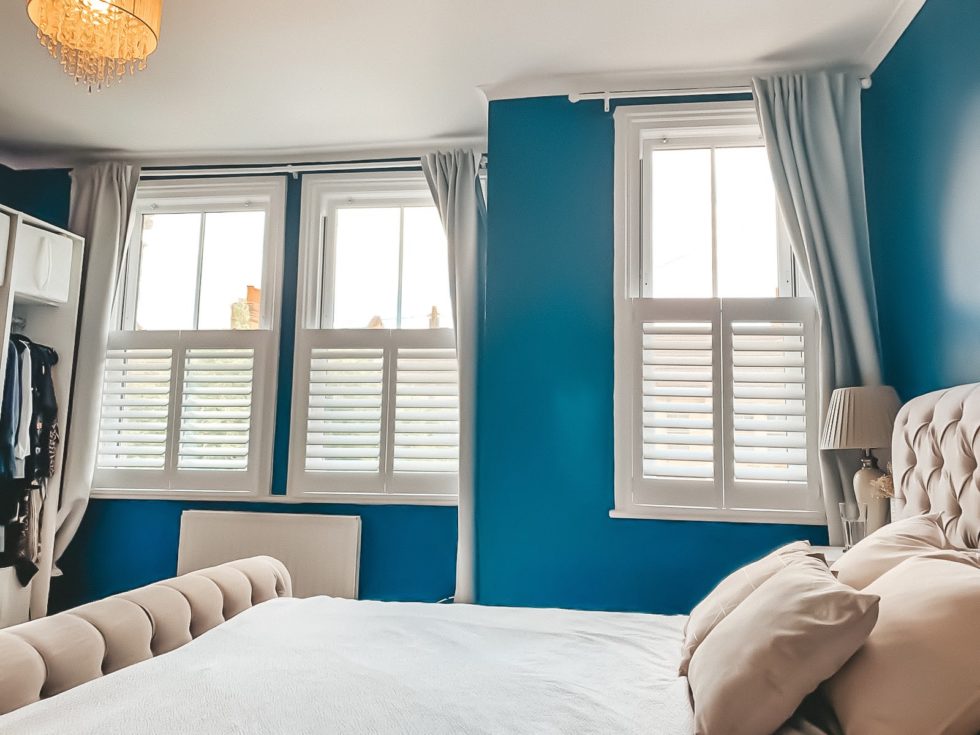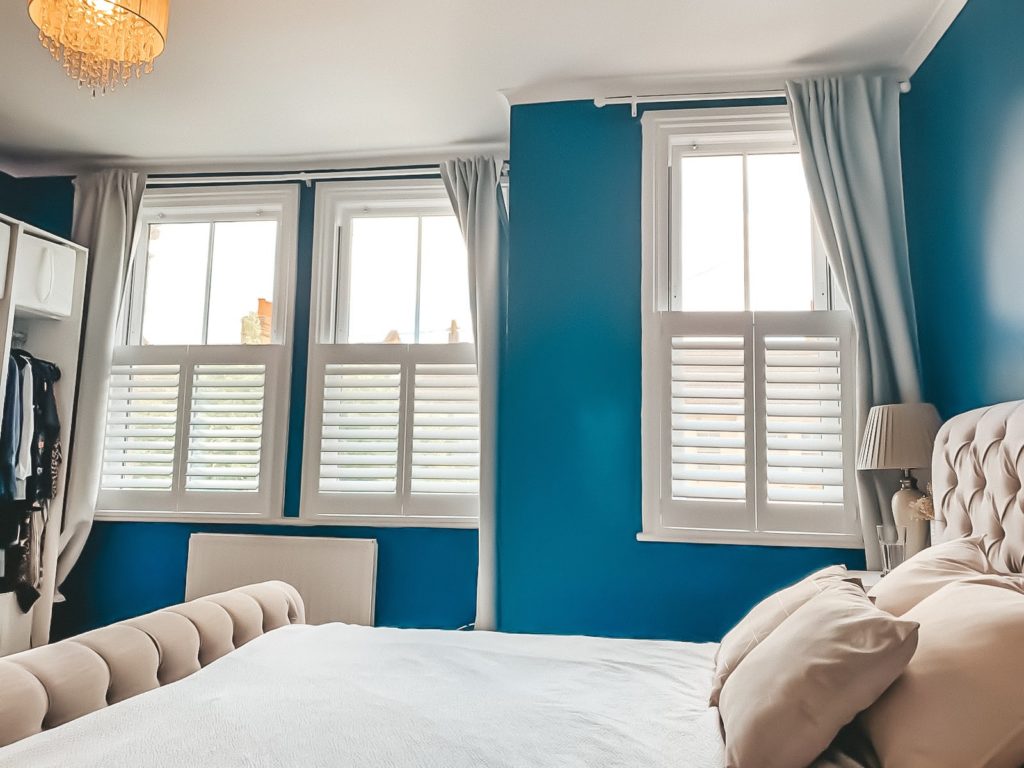 Why are bedroom window shutters so popular?
The beauty of window shutters is the control you have over light, air and privacy. With their angled slats, plantation shutters are ideal for bedrooms and nurseries. The horizontal slats can be opened to allow light and air as required. With a turn of the tilt-rod, the slats can be tilted from completely open to completely closed or anywhere in between. You get the option of full daylight, gentle shading, partial privacy or complete darkness. When fully closed, they do a fantastic job of blocking out light for maximum privacy and a good night's sleep.
Which shutters are best for bedrooms?
With window shutters, you have a choice of styles: full height shutters, tier on tier shutters, cafe style shutters and solid shutters. Many people prefer full height shutters for bedrooms. As the name suggests, these shutters are cover the entire height of the window and are made to measure for a perfect fit. They have a simple design with minimal panelling around the slats to allow maximum light and airflow. The full coverage is particularly suited to bedrooms, where privacy and light control are essential.
However, you may want to consider tier on tier shutters as an alternative option. As with full height shutters, they cover the entire window. However, the upper and lower panels of tier on tier shutters are physically separated. This means that the top and bottom sections can be opened or closed independently, giving you full control over light and privacy levels. They look best on sash and bay windows, as the shutters will be partitioned at the natural dividing point of the window. Our bay window shutters are a popular choice for bedrooms.
Cafe style shutters are also an option for first floor bedrooms, which are not overlooked from above. This shutter style is designed to cover the lower half of your window, leaving the top half free for daylight to flood in. However, they are not recommended when it comes to ground floor bedrooms. Although well-suited to rooms that are overlooked from the street, they do not provide the complete privacy that is often needed for bedrooms.
Another choice for the bedroom is classic solid shutters. These timeless shutters are beautifully simple and perfect for bedrooms where darkness and privacy are a priority. They offer unmatched blackout properties and are ideal for keeping the heat in draughty bedrooms.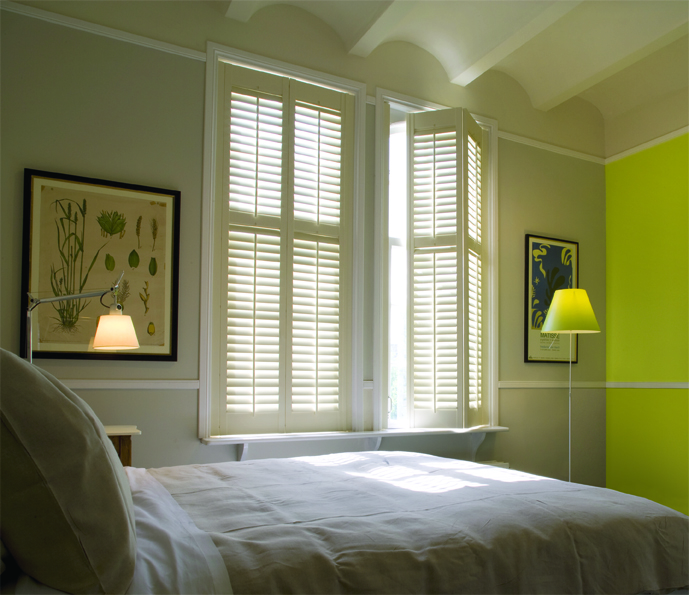 The benefits of plantation shutters for bedrooms
Along with the more apparent benefits of light and privacy control, plantation shutters for bedrooms are also well known for their insulating properties. When closed, the shutters provide an excellent barrier against draughty windows. If your bedroom is single glazed, you'll find bedroom shutters are hugely beneficial at keeping the room warm and cosy.
Equally, they are brilliant at keeping the heat out of the room. Coming from the hot, humid origins of America's Deep South, closed plantation shutters are designed to reflect the heat of the sun away from the room. With plantation shutters on your bedroom window, your room is guaranteed to feel cool and comfortable on muggy summer nights.
Options for bedroom window shutters
If you're looking for a complete blackout solution, bedroom plantation shutters are a great choice. Our traditional bedroom shutters will create a very good level of closure that will make the room extremely dark. Most people find that this level of darkness is ideal for a good night's sleep and even provides enough darkness for an afternoon nap.
However, for those who work shift patterns or sleep at different times, we offer a special room darkening shutter style. Designed for bedrooms and nurseries, these shutters have been designed to provide a total blackout solution. The overlapping blades are crafted with a special grooved edge, allowing the blades to close tightly on top of each other. Light leakage is reduced to almost nothing, giving you a completely dark bedroom at any time of day.
Finishes for bedroom shutters
White bedroom shutters are by far the most popular option in the UK, but this doesn't mean you don't have any other choices available to you. White window shutters will always be the first choice, as they blend into any style of décor. As the ultimate in neutral colours, white bedroom shutters bring a crisp, fresh feel into the room, highlighting the light and space. Neutral shades are very fashionable right now. Your bedroom shutters can be painted any shade of off-white, cream or grey to give a timeless, elegant look to your bedroom.
Shutter styles for bedrooms
Is your bedroom traditional or modern in style? This will help you decide which bedroom shutter to select. You may prefer the more traditional bedroom window shutter with its classic louvre style and tilt rod. Alternatively, you could opt for the more contemporary design of the portabello shutter. This modern style of shutters has a hidden tilt mechanism for a more minimalist feel.
It's worth remembering that bedroom shutters aren't just for windows. Our shutters can also be fitted on sliding and bi-fold doors or used to screen off larger areas. You'll find that patio door shutters are a sleek and practical solution for garden-facing bedrooms, while our sliding shutters can be installed on tracks making them an extremely practical choice. You could also consider using shutters as room dividers for larger bedrooms. It's a cost-effective way of sectioning up your space without the cost of building walls or extensions.
Transform your home with shutters