Shaped Shutters
It doesn't matter whether your windows are arched, round, angled or even semi-circular, our shaped shutters are the answer.
Made to measure for a perfect fit, shaped window shutters are a beautiful way to retain the original outline of your window, rather than hiding it behind curtains or blinds.  
Find out how American Shutters can transform your home
What are shaped shutters?
When your windows or doors aren't a traditional rectangular shape it doesn't mean that window shutters are no longer an option. We can make a set of shaped shutters just for your unique space, ensuring a perfect fit every time. Our shaped shutters are made to measure, so whether your windows are round, arched or angled, they'll slot perfectly into the space.
What's the main benefit?
These cool shutters are a great way to make the most of your feature windows. While curtains and blinds will mask the shape of the window, shaped shutters retain the original outline. Looking for round shutters for round windows? Or arch top shutters to follow the curve of your arched windows? This is where shaped plantation shutters come into their own. They accentuate the beauty of your feature window, rather than masking it.
Are shaped shutters fully functional?
Your shaped shutters work just as flawlessly as any other type of window shutter. The shutter function won't be compromised by the unusual shape. Whether you're wanting round window shutters or arched shutters, you'll find they don't only add a beautiful finish to the window, they are also a highly practical option. From privacy and light control to heat retention and durability, shaped shutters will deliver on all fronts. They are ideal bedroom shutters for this reason, giving you a complete room darkening option when needed.
Can you fit shaped shutters on arched windows?
Shaped shutters work beautifully on arches. Our shutters for arched windows will fit perfectly into the shape of your frame, highlighting the curve of the upper section. Arch top shutters can be designed to work independently from the lower section, in a similar way to tier on tier shutters. This gives you maximum flexibility on light and airflow whilst maintaining the integrity of your feature window. Arch plantation shutters are a very popular choice, due to their versatility in awkward spaces.
What options are available for round windows?
Round window shutters are the ideal solution for circular windows. They are made to measure to ensure the louvres are perfectly sized for the shape of the space. Your circle shutters will be fully functional, ensuring you can adjust the amount of light entering the room, giving as much privacy as desired. If required, we can also fit half circle shutters, should you wish to break the larger circle into two independently working sections.
Will they work on angled and triangular windows?
Shaped shutters look fantastic on angled shapes and spaces. These cool shutters will blend seamlessly into angled and slanting windows and doors, without masking the outline of these special features. White window shutters are a popular option for these types of spaces, merging beautifully into the décor to give an understated finish.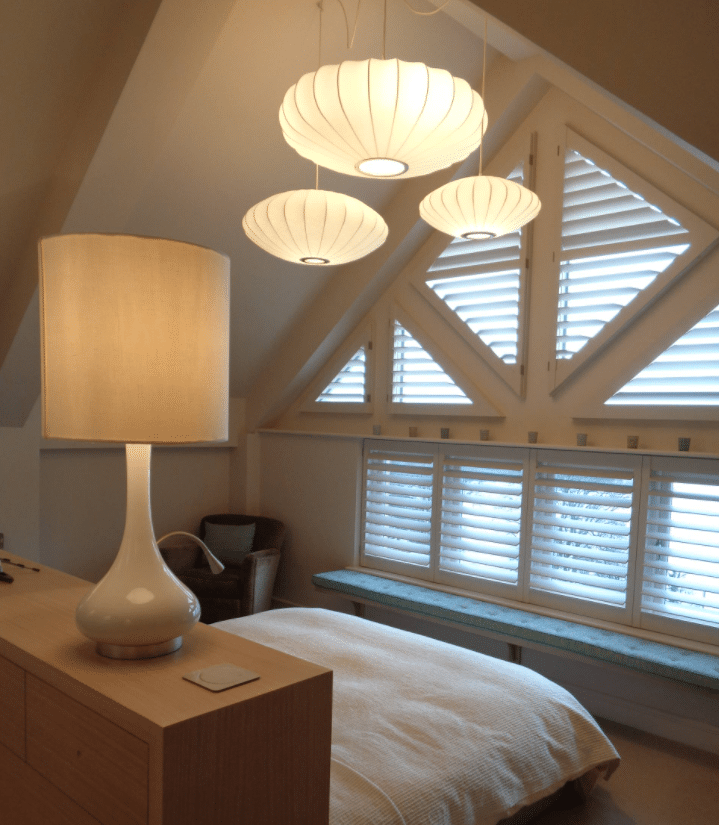 How about irregular shapes?
Whatever the shape of your windows or doors, we can make a shutter to fit. Arch shutters for windows are one of our most requested shapes, but we can also accommodate portholes, half round window shutters and any other combination of circular and angled shapes. We can also accommodate any shape for your room dividers and patio door shutters. Our experts will come to your home to measure up, ensuring every shaped shutter we make is a precise fit.
What colour choices and finishes are available?
Our shaped shutters can be finished to match your décor exactly. Our wooden shutters are made from the finest quality timber, and they can be stained or painted as required. Stained shutters are a popular choice, whilst painted shutters can be matched perfectly with your walls and finishings. Driftwood shutters add a natural, bohemian feel.
What styles are available for shaped shutters?
Choose from traditional or portobello styles to blend naturally with your interior decorations. Alternatively, you could consider solid shutters for a classic look that provides excellent privacy and insulation.
Transform your home with shutters