Interior Window Shutters
Window shutters, interior and exterior, are a fashionable addition to any home. At American Shutters, we find that internal window shutters are the first choice for homeowners. Both practical and stylish, they offer complete flexibility over the light and privacy levels in your home. And they give an undeniable boost to your kerb appeal.
Find out how American Shutters can transform your home
5 reasons to choose interior window shutters
1. They're the perfect fit
Unlike curtains or blinds, interior window shutters are made to measure. They're tailor-made to fit your individual windows, sitting seamlessly inside their own frame, which is fitted to your windowsill. This means there will be no chilly drafts in winter or sunshine peeking through the edges on sunny mornings. Here at American Shutters, our experts will come to measure your space, ensuring a perfect fit every time.
2. They blend with your interiors
Most people opt for white window shutters, which will give your room a bright, fresh feel. White shutters blend in with your existing décor and won't need to be refreshed if you decide to switch things up. However, you can also opt for your interior shutters to be painted in any colour you choose, or you can select stained shutters that come in various natural finishes.
3. They're easy to maintain
You'll find interior shutters are remarkably simple to keep looking fresh and new. Window shutters, interior or exterior, just need a quick wipe down with a cloth or duster. Unlike curtains, there are no folds to collect dust, no trips to the dry cleaners necessary, and they won't fade in the sun. With just a little care, your window shutters will keep their good looks for decades, proving they are the ideal investment.
4. They're fashionable
Whether you choose our traditional shutters with classic louvres and a tilt rod, or the minimalist style of our portabello shutters, they're a design classic that will never age. Interior window shutters blend in effortlessly with every new furnishing trend. Always the more popular and fashionable choice over curtains or blinds, you'll find your window shutters stand the test of time.
5. They're cost-effective
You may think of interior window shutters as a luxury choice, but they are actually the most cost-effective choice of window covering. Along with their low-maintenance benefits, they also offer fantastic insulation properties, which will really help to bring down your heating bills. In addition, they protect your soft furnishings against sun damage, offering increased longevity in these expensive items. And don't forget, the kerb appeal of quality interior shutters will add considerably to the market value of your property.
Exterior or interior shutters
Window shutters, also known as plantation shutters, have their origins in the Southern USA. Shutters were initially installed on the windows of large mansions on cotton and sugar plantations in the 'Old South'. In those days, shutters were placed outside the windows, providing protection from the sun and the heat. They were designed to cope with the hot and humid climate, with their louvred slats allowing for natural temperature control in the days before air conditioning.
Plantation shutters are now a popular choice worldwide, with one big difference. They're now placed inside the home. The louvres still provide excellent climate control and protection from the sun; however, these internal window shutters are designed to be installed inside. In the UK, interior window shutters are now one of the most popular contemporary solutions for window coverings.
The benefits of internal window shutters
Interior shutters are an incredibly practical choice. They have angled horizontal slats that can be opened to let light and air enter the room. These slats often referred to as louvres, are designed to slope downwards from the outside, allowing full control over light and airflow. When the slats are fully closed, internal window shutters do a great job of maximising privacy, reducing heat loss and blocking out the light.
The real benefit of internal shutters is the amount of control they give you over the levels of light and air in the room. The fully adjustable slats can be tilted from fully open to fully closed and anywhere in between. Whether you want lots of fresh air, complete privacy or soft shading, inside window shutters can be easily adjusted to suit your mood.
Interior shutters: a fashionable choice
Window shutters, interior and exterior, are renowned for keeping their style credentials. And it looks like they're becoming more popular as time passes. Research from IMARC reveals that the market for shutters will only increase over the next few years, driven by increasing investment in home improvement, building aesthetics and décor.
Interior trends will come and go, wallpapers will take over from plain walls, and carpets will replace wooden floors, but interior window shutters will keep their appeal. Why? Because they're timeless. They blend effortlessly with every new trend in your home, working in harmony with your revamped look. So, if you're looking for a sound investment, internal window shutters are an excellent choice.
Interior shutters or blinds?
What's the difference? Window shutters are made-to-measure and sit inside their own frame, which is fitted to your interior windowsill or door frame. While blinds can also be fitted to the window recess, they don't have their own frame and are lifted up and down by a string.
You'll find interior window shutters fit the window frame seamlessly. At the same time, you still have the option to open and close the slatted panels as you wish. With blinds, the individual slats are held together with string rather than attached firmly to a frame. Window shutters, interior or exterior, are also long-lasting and durable and will remain looking good as new long after your blinds need replacing.
Indoor shutters for all types of window
Interior window shutters are an extremely versatile choice and can be installed on almost every type of window. If you have a period home with bay windows, you'll find that shutters are a popular solution for good reason. Bay window shutters can be mounted to suit the shape of the window. This means your shutters retain the outline of the bay, enhancing the window rather than hiding it behind curtains. Shaped shutters can be installed to fit any shape or size of window and are the perfect way to preserve the integrity of period and statement windows.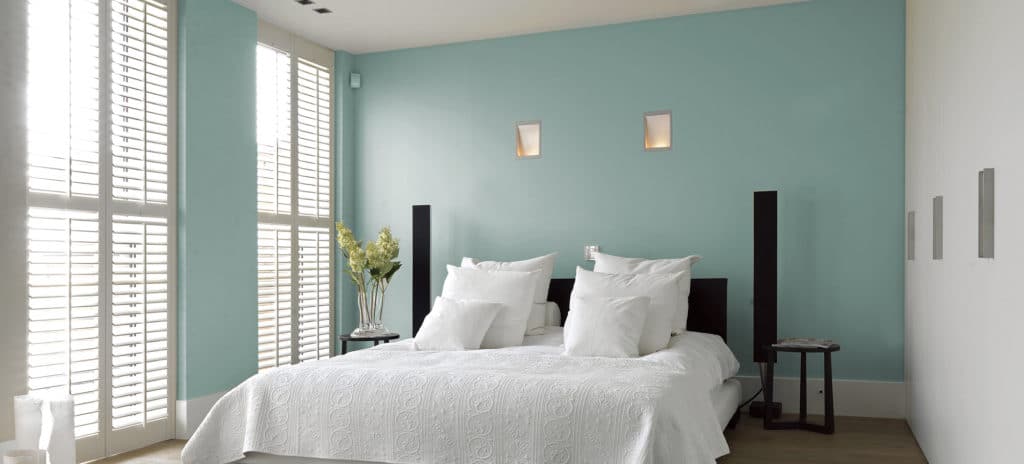 Door shutters interior
Shutters don't just have to be fitted on windows. You can also have internal shutters fitted on your doors. If you're looking for a covering for your sliding doors and bi-fold doors, patio door shutters are a sleek and practical solution. Indoor shutters also work well to screen off larger glazed areas, such as office partitions and conservatories. Sliding shutters can be installed on tracks to give you maximum flexibility.
You should also consider using shutters as room dividers. Sliding or fixed room dividers will section up your space, giving you an extra private area without the cost of building an expensive extension. It's a stylish and cost-effective option.
Internal shutter styles
Interior shutters are hugely popular in the UK. But which style should you choose? Our indoor window shutters come in a wide variety of styles to suit every home. Whether you want the flexibility of tier on tier shutters or prefer the boutique look of café style shutters, you'll find that shutters are infinitely flexible. Full height shutters will cover your windows completely. These are particularly suitable as bedroom shutters, where you can select a special room darkening design for a complete blackout when required.
Have a think about the style of indoor shutter you prefer. Do you like a more traditional shutter with classic louvres and a tilt rod to open and close the slats? Or may you prefer the more minimalist style of the portabello shutter? The modern design features a hidden tilt mechanism for a clean, contemporary look.
Wooden interior shutters
Our wooden shutters are made from the finest quality solid timber. Wood is the perfect choice for traditional shutters, giving you a beautiful finish with all the resilience of natural material. If you're looking for a less polished feel, why not opt for driftwood shutters with their soft, weathered finish.
Wooden indoor window shutters can be painted, sandblasted or given a natural finish to show the organic beauty of the wood. Stained shutters are proving to be a fashionable option and come in a variety of natural tones to match your interior decor. You could also consider alternative finishes, including fabric, faux leather or suede coverings, all of which can be carefully selected to fit in with your current furnishings.
Interior window shutter colours
While white window shutters are a universally popular option, your internal shutters can be painted any colour to match the interior of your home. Inside window shutters in white and lighter colours will give a brighter feel to your room and a crisp, fresh finish. They also blend seamlessly in your surroundings, meaning you won't have to update the colour if you decide to redecorate.
Interior shutters for insulation
One benefit often overlooked is the remarkable insulation properties of interior window shutters. Indoor shutters are well known for their ability to retain heat in a room. The closed shutters provide an excellent barrier against draughty windows and doors. For this reason, shutters are an ideal option for homes with single glazing. Research by Glasgow Caledonian University confirms this, concluding that timber shutters reduce heat loss by 51%.
Coming from the hot, humid origins of the Deep South, you'll find window shutters, interior and exterior, have remarkable properties for keeping heat out of a room as well. In hotter weather, your closed shutters will reflect the heat of the sun, keeping your room temperature cool and comfortable. Room darkening shutters are a popular choice for bedrooms and warmer climates.
Internal window shutter maintenance
Window shutters, interior and exterior, couldn't be easier to keep clean. In comparison to curtains, they're the clear winner. There are no pleats or folds to gather dust, no need to wrestle them down from the curtain rod, and no trips to the dry cleaners.
All your interior shutters need is a quick dusting with a cloth or feather duster. You can even use a hoover to dust off your shutters – just remember to use the soft brush nozzle to avoid scratching. Got some stains or sticky fingerprints? A simple wipe with a damp cloth will have them looking as good as new. With just a little care, your internal window shutters will look as good as new for years to come.
Interior window shutters cost
While window shutters for your interior may appear to be a luxury choice, you'll find they are incredibly cost-effective. Not only do they offer excellent insulation properties to bring down your heating bills, but they'll also protect your furniture and soft furnishing against sun damage. Internal window shutters will last for years with little maintenance required, and they'll stay looking as good as the day they were first installed. In the long term, interior shutters are a permanent upgrade to your property. They'll boost kerb appeal and help to raise the value of your home.
Looking for a price on window shutters interior? Give us a call, and we'll be pleased to help.
Transform your home with shutters