Made to Measure Shutters
Our bespoke window shutters guarantee the perfect fit, whatever the shape or size of your windows. First, we'll visit your home to take precise measurements. Your custom shutters are then made to order before being flawlessly installed by our expert fitters. The result? A picture-perfect fit, every time.
Find out how American Shutters can transform your home
5 reasons to choose made to measure shutters
1.      Any shape or size of window
It doesn't matter if you have period bay windows, modern casement windows or even an unusual arch or porthole. Your bespoke window shutters will be made to the individual measurements of your windows. Made to measure shutters can be made to any shape or size you require, from victorian window shutters to contemporary skylights. 
2.      A perfect fit every time
At American Shutters, we always send out a professional fitter to measure up your space. That means your custom made shutters are precisely crafted for your unique window frames. You'll find that installation is a breeze, and your windows will fit to perfection. No gaps, no overlaps, just perfectly fitted made to measure shutters.
3.      Select a style to suit your home
When you're buying off the shelf, you have to take what's available. When shutters are made to measure, it's a completely different experience. Whether you opt for traditional shutters with a classic tilt rod, or portabello shutters with their clean, contemporary lines, you'll find the ideal match for your interiors.
4.      Choose your ideal finish
Did you have white window shutters in mind? Or perhaps you'd prefer to match your window shutters to the colours of your room? Maybe you were thinking about the natural finish of stained wooden shutters, or the boho appeal of driftwood timbers. With made to measure shutters, you can opt for whatever finish takes your fancy.
5.      The eco-friendly option
As well as the more apparent benefits, you'll be pleased to hear that handmade shutters are an eco-friendly choice as well. By eliminating the need for modifications and adjustments, less valuable materials are wasted in the process. A perfect fit also offers improved insulation, which means you use less energy to heat your home.
Made to measure shutters UK
At American Shutters, we pride ourselves on delivering made to measure shutters that exceed your expectations. When professionally measured and fitted, you'll find that window shutters can be fitted on almost any type of window. Ideal for both period and modern homes, shutters are an extremely versatile solution in the UK.
Shutters are particularly popular for period windows, where they enhance the window's natural shape. When professionally made to measure, bay window shutters can be mounted to retain the curve of the bay, rather than masking it behind curtains. When you're looking to preserve the integrity of period and statement windows, our custom made shaped shutters are a perfect choice.
Shutters made to measure
Our made to measure shutters are available in a range of styles and designs. The one thing that remains consistent is that they are all custom made, just for you. Which bespoke style will suit your home?
You may want the maximum privacy afforded by our full height shutters. These shutters will cover your windows completely and are ideal as bedroom shutters when you really need it to be dark. If you want complete darkness, you can even select a room darkening design for a full blackout. This is when it is essential to have correctly measured and bespoke shutters. Our perfectly fitted handmade shutters won't let even a chink of light get through.
Perhaps you want the flexibility of tier on tier shutters? These versatile shutters have upper and lower panels that open independently. This gives you maximum control over light and privacy, along with an abundance of natural light. Our café style shutters offer another stylish and versatile alternative. All our custom made shutters will be tailored to fit, partitioned at the natural dividing point of your window. This level of attention to detail makes our made to measure window shutters such a hit with interior designers and homeowners alike. 
Custom made shutters
The benefits of made to measure shutters are numerous. Window shutters are an incredibly practical choice, giving you complete control over the levels of light and air in the room. The angled horizontal slats, often referred to as louvres, are designed to slope downwards from the outside. This means you can adjust light and airflow, reduce heat loss, block light, and maximise privacy. By installing made to measure shutters that are a perfect fit for your windows, we can ensure that you'll get the maximum benefits from your shutters. Whether you want lots of fresh air and light, gentle shading, or complete darkness and privacy, our custom made shutters will give you full control to suit your mood.
It's worth considering the style of window shutter that will suit your room. You may opt for the more traditional shutter with a classic louvre style and tilt rod. Or maybe the modern design of the portabello shutter is better suited to your interior furnishings. These contemporary shutters have a hidden tilt mechanism for a minimalist look. Whether you want traditional or modern, our handmade shutters will blend beautifully into your home.
Made to measure wooden shutters
All our made to measure wooden shutters are crafted from the best quality timber. Wood gives a beautiful finish, combining natural resilience with the aesthetics of an organic, natural product. Our custom made wooden shutters are made to your specifications. You can opt for a painted, sandblasted or natural finish, depending on the style of your home.
If you're looking for a more weathered feel, why not consider our popular driftwood shutters for that rustic, vintage look. Alternatively, our made to measure wooden shutters can be given a special stain to work alongside your existing furniture. Stained shutters can be finished in various shades to provide you with the perfect match.
However, when it comes to paint colours, we find that white window shutters are the number one choice every time. While we can paint your custom made shutters any colour you choose, many people find that the lighter shades give a crisp, fresh feel to the room. The beauty of white also lies in its ability to blend into any space, whatever the style. And if you decide to update your furnishings, you can be sure that your white window shutters will work with every look.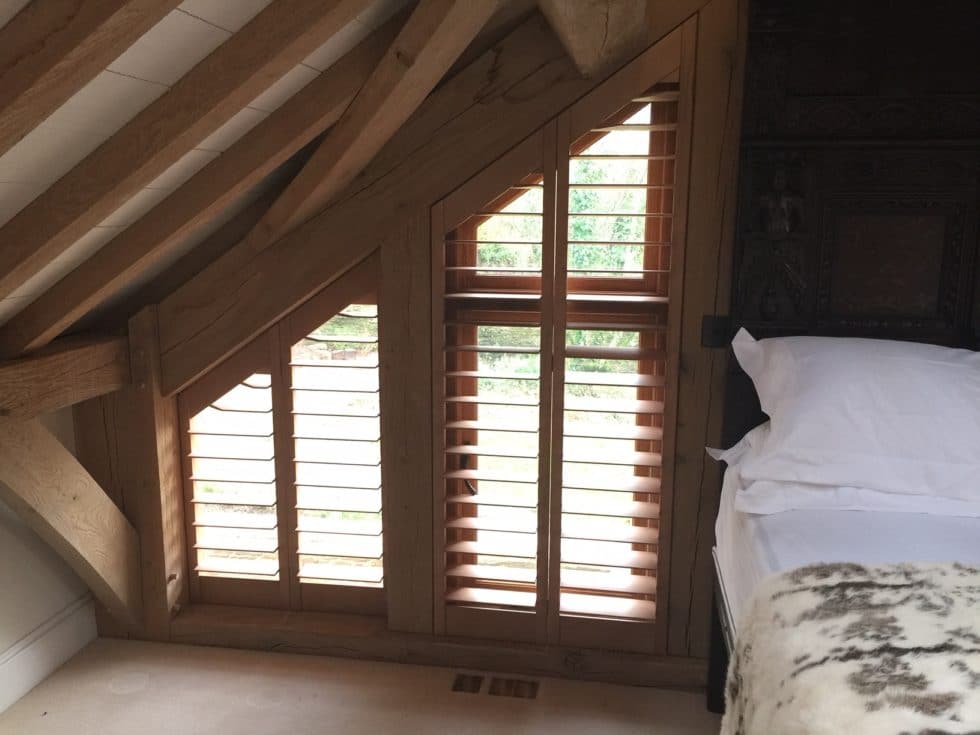 Made to measure plantation shutters
There's a reason why plantation shutters have become such a hit in the UK. Although they were originally installed on the large houses on plantations in the Southern USA, they have become a hit over here. Why? Well, it turns out that those louvred slats that provided such excellent temperature and light control in the days before air conditioning work just as well in the UK. The louvres provide superior climate control and protection from the sun. They keep in the heat, reduce fabric fade and provide excellent privacy. And when your plantation shutters are custom made to fit your windows to perfection, the benefits become even more significant.
Handmade shutters
Of course, shutters aren't just for windows. You'll find that shutters are also used throughout the home, on doors, on patio windows, as room dividers and as privacy screens. Our made to measure shutters come in all shapes and styles to suit any requirement. If you're considering a shutter for your sliding doors and bi-fold doors, patio door shutters are the practical answer. Our handmade shutters can be installed on sliding tracks to work with your existing doors.
Shutters as room dividers are becoming a popular request amongst our customer base. They are a great way to section up your space and create an additional private area for home-working. It's a cost-effective way of giving you an extra room without building an extension or constructing a garden office.
Window shutters made to measure
Our bespoke shutters are a permanent upgrade to your home. When you decide to invest in made to measure window shutters, you're adding value to your property. Window shutters will boost kerb appeal and provide a long-lasting, high-quality addition to any home.
Transform your home with shutters