Tier on Tier Shutters
Tier on tier shutters have upper and lower panels that open independently, giving you maximum control over light and privacy. This makes them incredibly versatile.
You can have an abundance of natural light and all the privacy you need. The perfect choice for period properties with bay or sash windows.
Find out how American Shutters can transform your home
What are tier on tier shutters?
Like full height shutters, tier on tier shutters cover the entire window. However, the upper and lower panels of tier on tier shutters are physically separated, meaning that the top and bottom sections can be opened or closed independently of one another. This gives you complete control over the levels of light and privacy.
These window shutters are the ideal solution when you need maximum control over privacy (street-facing rooms, for example) but also want to allow light and air to enter the room.
Are they the same as double hung shutters?
Yes, tier on tier window shutters are also known as double hung shutters. You may also hear them referred to as split shutters and sash window shutters. These are all tier shutters, with independently opening top and bottom panels.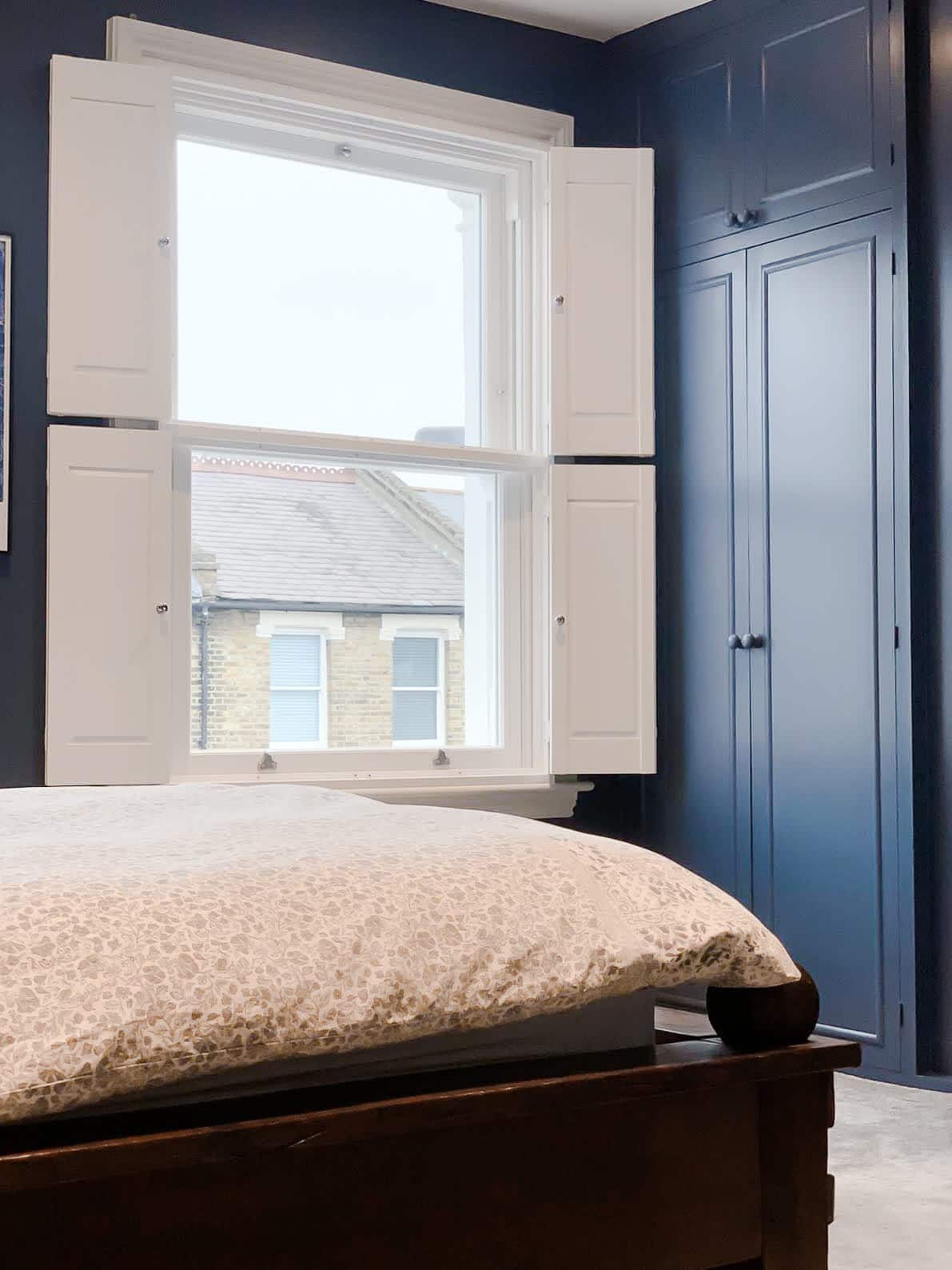 What's the main benefit of tier on tier shutters?
The beauty of these shutters lies in their versatility. While all plantation shutters are designed with light control and privacy in mind, tier on tier plantation shutters go one step further.
Do you want total privacy? No problem. Just close the slats on both sections. You'd prefer some light in your room? Open the upper slats to let the sunshine in. You want the feel of cafe style shutters, with only the lower part of the windows covered? Simple, just fold back the upper shutters. Tier on tier shutters cover all bases, giving you maximum light and privacy control.
Do they offer good privacy?
Yes, tier on tier shutters offer full window coverage just as effectively as full height shutters. With all the slats closed, they give you maximum privacy. This makes tier on tier shutters ideal for houses on busy roads, providing privacy from passers-by but also allowing you to enjoy a bright, well-ventilated room.
On sunny days, you can open the slats on the top part of the shutter, or even fold the shutters back completely to let the light and air flood in. In the evening, the shutters can be closed again, giving you full privacy from the outside world.
Do they offer good light control?
This is where tier on tier window shutters really excel. These highly versatile shutters give you maximum control over the amount of light entering your room and can be easily adjusted to suit any circumstance.
For a room darkening option, all the panels and slats can be completely closed. If you'd like more light, pull open the upper panels while keeping the lower panels closed. This will give you both privacy and a source of natural light flowing unobstructed into your room. The slats give you even more control. You'll find you can create a soothing, ambient glow by just opening either the top slats or the bottom slats and leaving the others closed.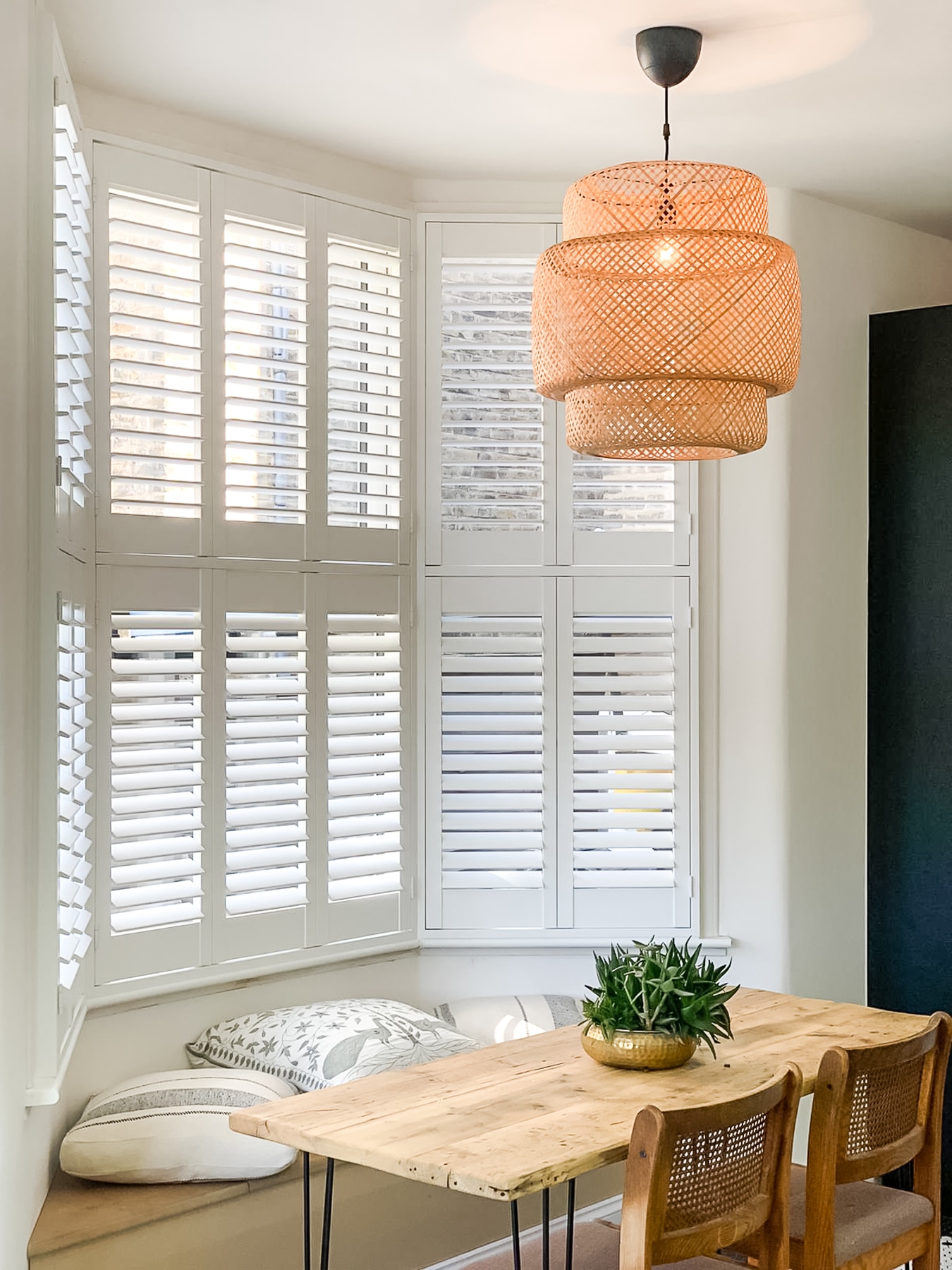 Do they offer good insulation?
According to the Energy Saving Trust, the structure of window shutters stops heat from escaping through windows. It also acts as an effective barrier against outside cold air entering the home. Traditional shutters constructed from wood are even more effective. Wooden shutters are thermally dynamic, which means they reflect the outside cold before it gets inside. By choosing wooden window shutters, you can reduce heat loss by up to 51%.
Tier on tier plantation shutters are just as good at insulating your home as full height shutters. The separation of the top and bottom section does not affect the insulation levels and the construction of the slats remains the same. As such, tier on tier shutters will do a brilliant job of keeping your room warm in winter, and cool in summer. This makes tier on tier shutters a very popular option in the UK.
Which window styles are they recommended for?
Tier on tier shutters are a classic and traditional design that complement period properties and are particularly suitable for tall, grand windows. While the tier on tier shutter bay window option is the most popular, they also blend in beautifully with classic Victorian style sash windows.
Tier on tier shutters look most at home on windows with a dividing point, such as bay or sash windows. Your tier shutters will be partitioned at the natural dividing point of your window. It is possible to fit tier on tier shutters on smaller windows without a natural division, but they will block out the light where the tiers meet.
Which rooms are they recommended for?
Any room which requires some flexibility of light and privacy will benefit from tier on tier shutters. Ideal for living rooms and bedrooms alike, they are a practical and stylish addition to any space. Tier on tier shutters UK will often be found in street-facing rooms as they give maximum privacy without compromising on light and ventilation. Whether you choose traditional or portobello shutters, they will add a classic, sophisticated feel to your room.
What colours and finishes are available?
Your tier on tier shutters can be finished to suit your personal taste and décor style. Our plantation shutters are made from the finest quality wood and can be finished in several ways. They can be painted to your specification, sandblasted or stained. Stained shutters are a fashionable option; the wood can be stained to match your furniture and sills. Driftwood shutters are also available for a natural, unfinished feel.
When it comes to paint, white window shutters are by far the most popular colour in the UK. However, pale shades are also a good choice. Off-white, creams and greys are classic shades that will give your tier shutters an elegant, timeless appeal.
Transform your home with shutters