Bathroom Window Shutters
Window shutters are ideally suited to bathrooms and shower rooms. Our waterproof shutters for bathrooms give you complete privacy whenever it's needed. Ideal for rooms with high moisture levels where curtains are not an option, they're easy to clean and maintain. They'll also lend a stylish spa-style finish to your space.
Find out how American Shutters can transform your home
Bathroom window shutters
When it comes to window coverings for the most private room in the house, bathroom shutters will always be the first choice. In an instant, your bathroom or wet room can become a completely personal space. Just one touch of the louvres, and your room is fully screened off from the outside. With no poorly fitting curtains or blinds to worry about, you can relax in comfort.
And when you don't need privacy, you can open up the shutters to let the light and air stream in. With a turn of the tilt-rod, you can angle the slats from fully open to fully closed or somewhere in between. Whether you want full daylight, gentle shading or partial privacy, you'll have full control.
Made to measure bathroom shutters
At American Shutters, we create made to measure shutters that will fit your windows exactly, ensuring maximum privacy at all times. There are no cracks or spaces with our professionally measured and fitted shutters. They're a perfect fit every time.
It doesn't matter what size or shape your windows may be. If your windows are an unusual shape or style, we're here to help. Our shaped shutters will be tailor-made to fit any window. It's the perfect way to preserve the integrity of period and statement windows. We can also make compact shutters, should your bathroom windows be smaller than the average window.
Waterproof shutters for bathrooms
Our water resistant shutters are the clear choice for wet rooms, shower rooms and bathrooms. Wherever there is excess moisture in the air, you'll want to opt for a water-resistant finish. At American Shutters, we craft our waterproof bathroom window shutters from the highest quality UPVC and finish them with polyurethane paint for extra protection. They won't warp or distort, however humid the conditions.
Waterproof shutters for bathroom windows also look fantastic, just as stylish as wooden shutters without any of the downsides. You can choose from a range of colours to suit your bathroom décor. Our white window shutters are a universally popular choice for bathrooms, giving the room a crisp, bright feel. Shutters also help to create a stylish spa effect, adding a touch of sophistication and polish.
Bathroom shutter styles
Bathroom window shutters are a very fashionable choice in the UK, and you have many styles to choose from. We offer a variety of shutter styles to suit every home.
Many people choose full height shutters for the bathroom area. These full-length shutters will cover your windows completely, giving you maximum privacy as needed. You may want to consider the flexible option of tier on tier shutters, which will allow you to open the upper half of the shutters independently. This gives you even greater control over the amount of light and air entering the room. We don't recommend our café style shutters for bathrooms. Only the lower half of the window is covered in this style, which reduces your overall privacy levels.
You can also choose between a traditional or more contemporary style of shutter. Our traditional shutter has classic louvres and a tilt rod that opens and closes the slats. You may prefer our more modern portabello shutter. This minimalist design has a hidden tilt mechanism for a clean, unfussy finish. In addition, you can choose from a wide range of louvre blade sizes, 64, 75, 89 or 114mm, to give you the perfect look for your home.
Plantation shutters for bathrooms
Window shutters, also known as plantation shutters, were originally fitted on the windows of large plantation houses in the Southern USA. Back then, the shutters were placed on the outside to protect against the heat and the sun. It's not surprising to learn that plantation shutters were designed to cope with hot and humid climates, somewhat similar to the one you'll find in the bathroom.
Shutters for the bath and shower room are fantastic at regulating temperature and humidity levels. The louvred shutters allow air to enter the room without compromising your privacy. This means you can enjoy a natural flow of air without worrying about onlookers. The slats also provide excellent protection from the sun and heat on hot days and keep the room warm and toasty in winter.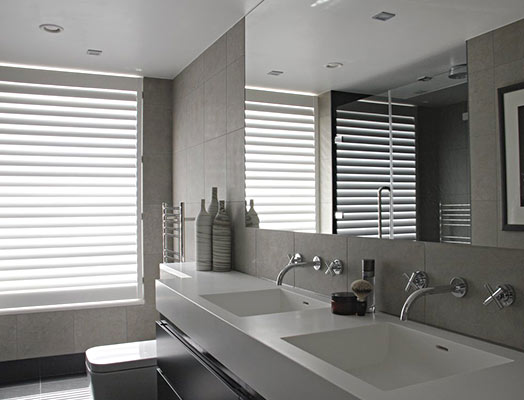 Bathroom window shutters maintenance
Waterproof bathroom window shutters are incredibly easy to clean and maintain. Made from quality UPVC, they can be wiped down effortlessly, leaving your bathroom space spotlessly clean and hygienic. Unlike curtains or drapes, which can trap moisture and harbour germs, shutters are the sanitary choice for every bathroom.
You'll find your bathroom shutters are highly durable. As they are guaranteed not to warp or distort, you'll find they stay looking good as new for years on end. And thanks to the protective polyurethane paint, they're well protected against stains or damage. At American Shutters, we have happy customers who are still enjoying their shutters 20 years after they were first installed.
Bathroom shutter cost
Shutters for bathrooms may sound like an expensive choice, but you could be happily surprised. They are actually very cost-effective. Their fantastic insulation properties will help reduce your heating bills, especially in a bathroom where warmth is essential. Long-lasting and practically maintenance-free, they'll give you years of good looks with minimal effort.
And, don't forget that all-important spa effect. Bathrooms are one of the key rooms under consideration by house-hunters. A stylish, sophisticated wet room with quality bathroom window shutters will add to the value of your home. Think of your bathroom shutters as a permanent upgrade to your property.
Transform your home with shutters