Patio Door Shutters
Our beautifully crafted shutters aren't just for windows. We also offer a wide range of shutters for patio doors.
Perfect for summer, they'll allow you to control the amount of light and air entering your home whilst providing a useful barrier. And unlike curtains or blinds, they won't flap in the breeze.
Find out how American Shutters can transform your home
Introducing patio door shutters
While we're well known for our window shutters, you'll find that shutters are also the ideal solution for patio doors. They can be fitted on both traditional hinged doors and sliding doors, made to measure for that perfect fit. They're the fuss-free solution for patio and French doors looking out onto the garden. Low-maintenance and endlessly flexible, they look great from both inside and outside the home.
How do they work?
When you want to open your patio shutters, the panels fold back to one side, taking up minimal space and giving you an undisturbed view of the garden. When closed, you'll find they're an excellent solution for keeping pets or young children indoors without losing the sunlight and the breeze. Patio door shutters also provide a helpful barrier against insects. You can open the slats as much or as little as you like, giving you complete control over the amount of light and air entering the room. Ideal for summer days, you can enjoy all the benefits of the garden with none of the hassle.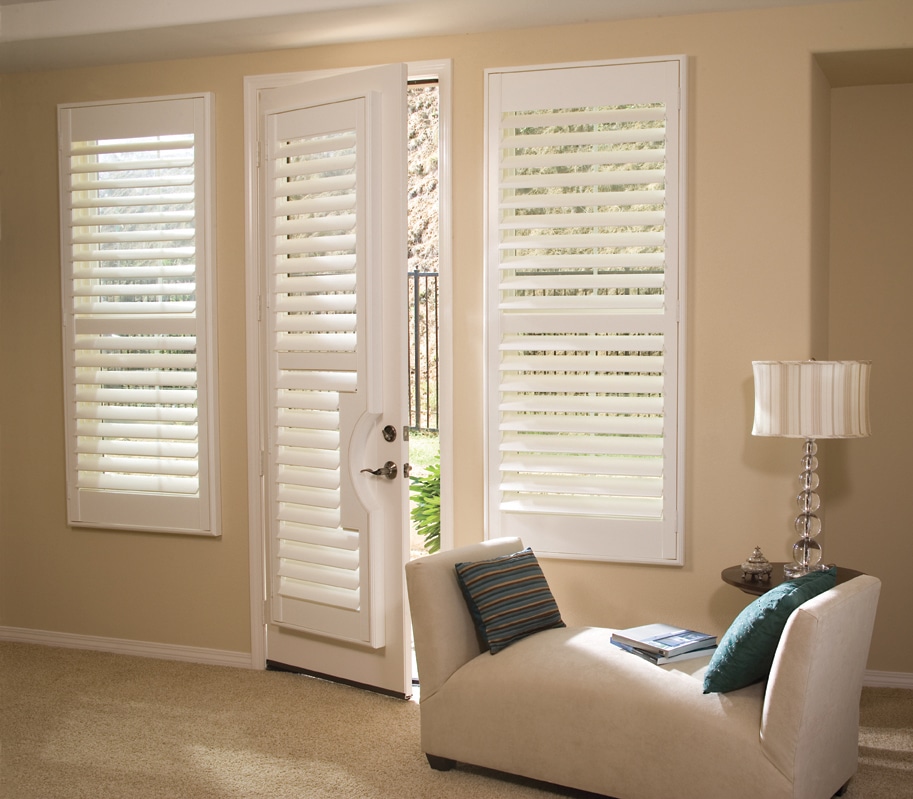 What are the benefits?
There are so many advantages; it's no wonder patio door shutters are hugely popular in the UK. Probably the main benefit is the amount of flexibility they offer. While your patio doors have to be either opened or closed, your patio shutters are more flexible. You can move the slats throughout the day, precisely controlling the light and airflow into the room. When the sun is shining directly, you may want to close the shutters completely to keep out the heat. As the sun moves on, you can open the slats again to let in the breeze and cool off the room.
Shutters for patio doors also provide an excellent level of privacy. You can open up your patio doors to catch the breeze without worrying about being overlooked by neighbours. Choose from solid shutters for maximum privacy or louvred plantation shutters for patio doors that offer optimum light and air control.
You'll find your patio door shutters are remarkably simple to maintain. Just a quick wipe down with a damp cloth will keep them looking brand new for years to come. Unlike curtains or blinds, which can fade in bright sunlight, your patio shutters have maximum longevity. Along with our classic wooden shutters, we also provide a range of water resistant shutters guaranteed not to warp, however humid the conditions.
Types of patio door shutters
Here at American Shutters, we can fit your patio shutters on both traditional hinged doors and sliding doors. Sliding shutters for patio doors are a popular option, with tailor-made shutters expertly fitted to your existing sliding doors. Unlike our window shutters, we designed patio door shutters with a three-sided frame, which means there is no frame at the bottom to impede the tracking of the door. Our shutters for hinged patio doors are designed in a similar way, with no bottom edge for you to step over.
All our patio door shutters are made to measure to ensure a flawless fit every time. Many people prefer full height shutters for their patio doors, which come with a mid-rail to allow you to operate the top and bottom slats independently of each other. However, you could consider cafe style shutters, which only cover the lower half of the window to maximise your view at all times.
You should also consider the style of patio door shutter you prefer. Maybe you like a more traditional shutter with classic louvres and a tilt rod to open and close the slats. Or perhaps you might select the clean style of the portabello shutter. This modern design has a hidden tilt mechanism for a neat, minimalist look.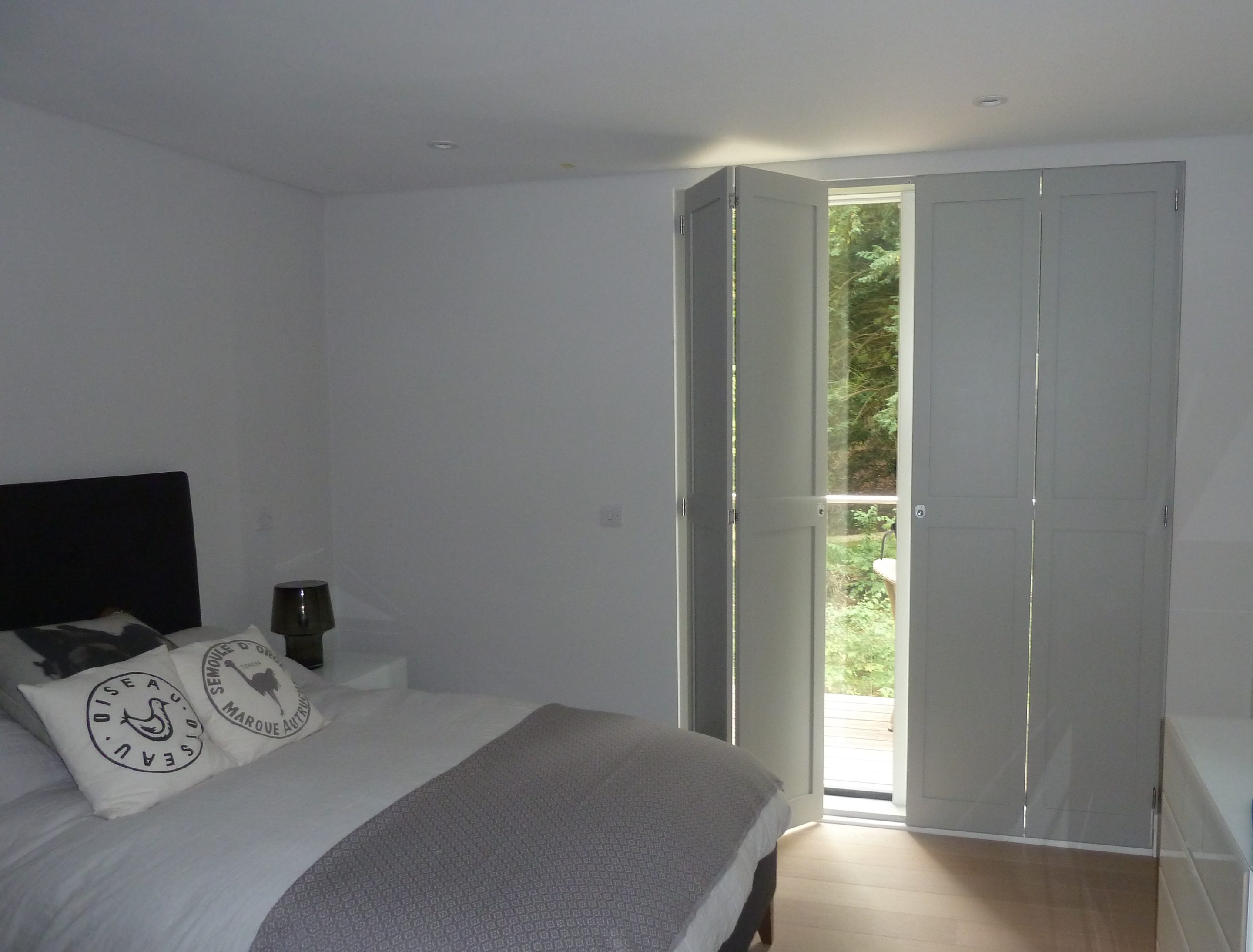 Finishes for patio shutters
You'll find a wide range of colours and finishes on offer for your patio door shutters. White window shutters are one of our best-sellers. White is the ultimate neutral shade that blends into any interior style and is the most popular colour on shutters for patio doors in the UK. However, if you're looking for something other than white, we're here to help. We can match your patio shutters to any paint shade of your choice, getting the perfect match with the existing colour scheme.
Shutters on patio doors can be supplied in a range of materials and finishes. Our stained shutters are made from the finest timber and allow the natural beauty of the wood to show through. Driftwood patio door shutters are also a popular choice. The soft, weathered finish is the perfect accompaniment to the shabby chic look.
Patio Door Shutter Price
When exploring shutters for patio doors prices, you could be pleasantly surprised at the results. Our expert fitters will come to measure up the size of your doors, as the final price will take into account the height and width measurements of the shutters. Once we have the exact measurements, we can provide you with the price.
While shutters for patio doors may appear to be a luxurious choice, you'll soon find they are very cost-effective. Patio shutters provide excellent insulation properties, helping to eliminate draughts and lower your heating bills. They will also protect against sun damage, saving your flooring, furniture, and soft furnishings. Endlessly hardwearing, patio door shutters quickly earn their keep and become a sensible investment for your home.
Want to find out more about shutters for patio doors prices? Give us a call to book your free design visit.
Transform your home with shutters