Plantation Shutters
Considering plantation shutters for your home? You'll be hard-pushed to find anything better when it comes to style and practicality. Window shutters offer complete control over the amount of light and air entering the room, and blend seamlessly into any style of interior décor. And when it comes to kerb appeal, plantation shutters boost your home's value.
Find out how American Shutters can transform your home
Reduce heat loss with plantation shutters
If you're looking for ways to improve the energy efficiency of your home, window shutters are an excellent solution. Better than curtains or blinds, plantation shutters will reduce the heat lost through your windows. In fact, a study by The English Heritage suggests they will reduce heat loss by more than 50%. You'll find that plantation shutters will not only reduce energy loss through the windows, but they'll also lower your heating bills and improve home comfort.
According to Energy.Gov, about 30% of a home's heating energy is lost through the windows. That's a significant amount, and with energy costs soaring, it makes sense to keep the heat in, rather than pay to replace it. When the panels of your shutters are closed, they can reduce heat loss through a window by more than 50%.
Wood acts as an excellent insulator against the cold. Our wooden shutters are made from the finest quality timber and deliver fantastic insulating properties. It not only provides an additional barrier against the outdoor temperature, but also prevents the conduction of heat. All our shutters are also made to measure, offering the perfect fit every time. A well-fitting shutter offers even greater insulation against heat loss, as there are no gaps between the frame and the shutter. No cold drafts, just a warm, comfortable home.
Your plantation shutters will also offer fantastic insulating benefits in the summer too. With summers getting hotter, and heat waves becoming a common occurrence, we're all considering how to keep cool as the seasons change. The closed slats will reflect the sun's heat, keeping your room temperature beautifully cool. Plantation shutters were designed for this purpose, originating from the hot, humid climates of the Deep South.
So, whether you're aiming to keep the heat in or out, plantation shutters offer the perfect solution for an energy-efficient home.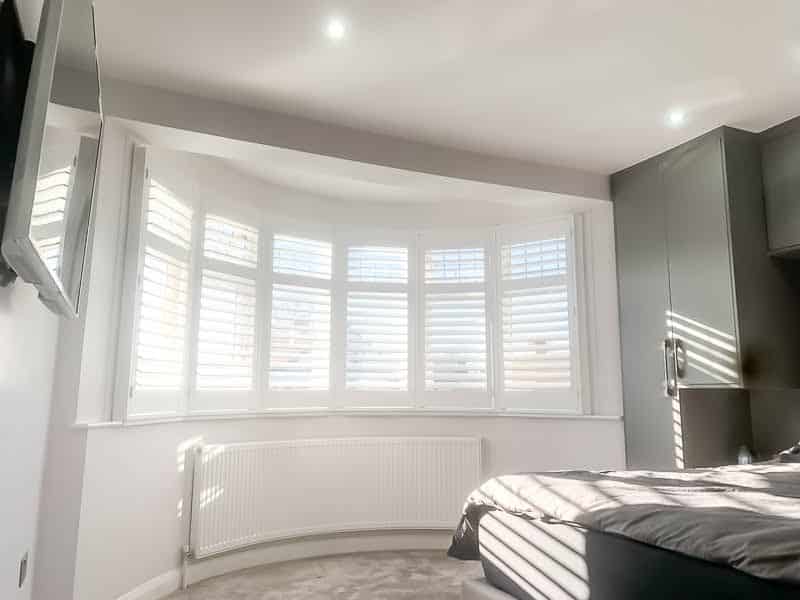 Are plantation shutters still in style in 2023?
Interior design trends come and go with alarming speed sometimes. One moment, we're decorating our walls with Farrow & Ball Skimming Stone, and the next, we're hanging elaborate William Morris wallpaper. Bare floorboards replace carpets, and soft furnishings shift from scandi minimalism to chintzy excess. Fortunately, some interior trends have endured over the years, and window shutters are one of these. With their sophisticated and timeless appeal, they blend seamlessly into any décor.
Shutter trends for 2023
Plantation shutters endure across the ages, dating right back to the sugar plantations of the Old South. However, we are seeing some style preferences coming to the fore more recently.
Slat sizes
Larger slat sizes have become the most popular choice, as opposed to the more traditional slim louvres. The larger slats create a clean, minimalist feel to the finished shutter, with fewer lines to break up the look. Here at American Shutters, we provide a range of slat sizes to suit all tastes and interior styles.
Tilt rods
The hidden tilt rods in our modern portobello shutters are a fashionable choice at the moment. By concealing the tilt mechanism, the shutters have an understated, modern feel to the design. However, we're still finding a steady market for our traditional plantation shutters, which feature the conventional tilt rod.
Colour
When it comes to plantation shutters, one element remains eternally popular: the colour white. White has been the best-selling colour for window shutters across the decades. That isn't changing any time soon. Our white window shutters offer a classic yet contemporary look that is hard to beat.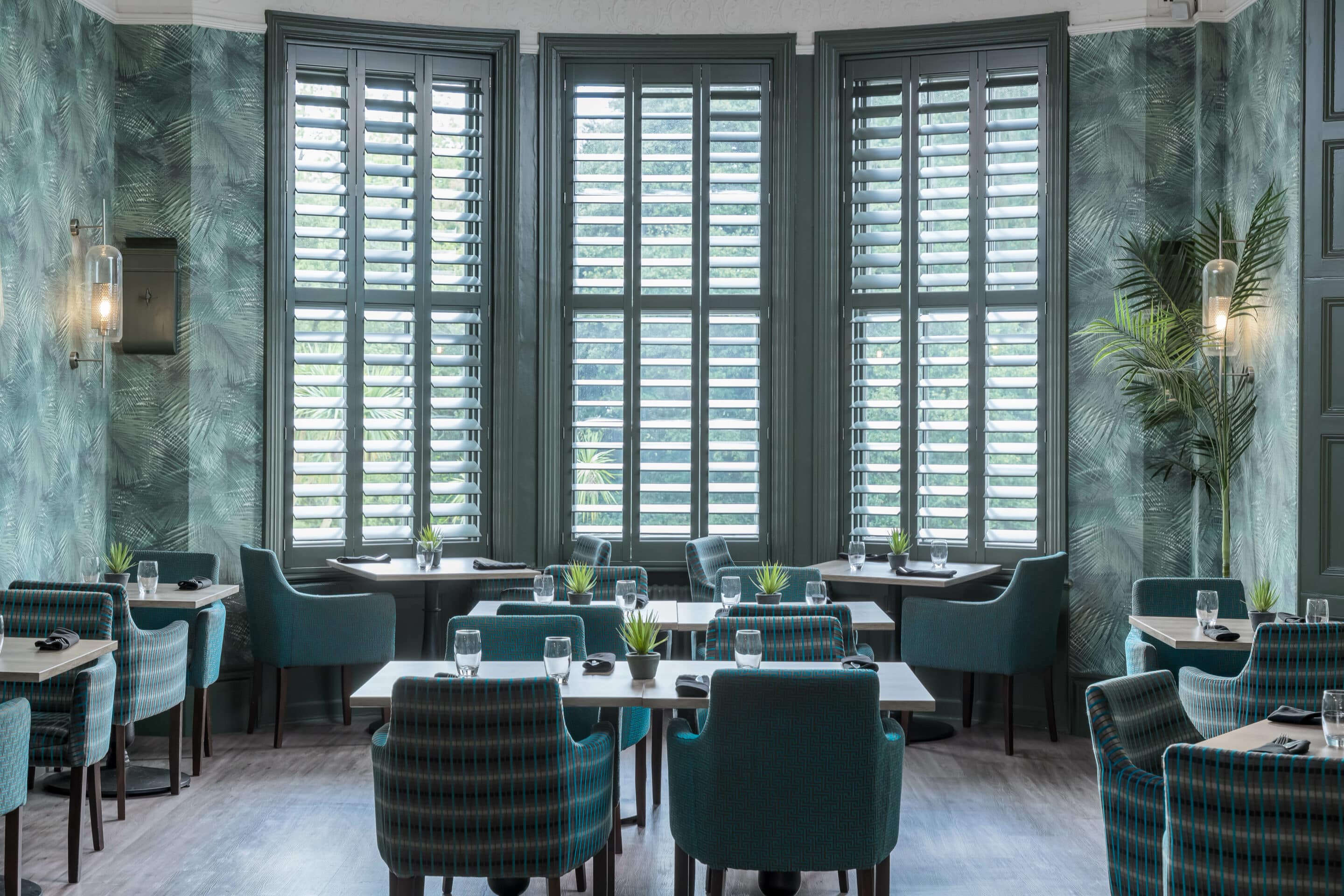 Five reasons to choose plantation shutters
1.      Let in the light
The beauty of plantation shutters is that they allow you to control the amount of light entering your home. Whether you want full daylight, complete darkness or somewhere in between, it's you in control. You'll want as much daylight as possible when it's dull and grey outside. So simply open the slats and enjoy the daylight streaming into your room.
On a hot, sunny day, plantation shutters are ideal for keeping out the heat and allowing just a gentle glow.
2.      Keep out prying eyes
Nothing beats plantation shutters for privacy. Simply one touch of the shutters, and you'll be shielded from the outside world. Ideal for rooms situated on busy roads or overlooked by neighbours, plantation shutters will give you maximum privacy whenever it's needed. While café style shutters cover the bottom half of the window, you may want to opt for maximum privacy by choosing full height shutters.
3.      Ramp up the style
There's no denying that plantation shutters give a stylish finish to any home. Timeless in their appeal, they blend seamlessly into any interior décor. And when you feel the need to update your look, you can rest assured that your plantation shutters will continue to give that sophisticated feel to the room. Opt for white window shutters, and they'll complement any colour scheme.
4.      Maintain with ease
Plantation shutters offer minimum upkeep and maximum durability. Unlike curtains that fade over time, your window shutters will keep looking as good as the first day they were installed. A simple wipe-down with a clean cloth will keep dirt at bay. They're also an ideal solution for allergy sufferers, as they won't attract or hold dust like traditional furnishings.
5.      Upgrade your home
If you're looking for a quick and easy way to boost kerb appeal and raise the price of your property, plantation shutters are the answer. As a permanent upgrade to your home, they have been proven to increase the resale value of your property. This is partly due to the durability of shutters and partly down to their enduring appeal. Whatever the size or shape of your windows, our shaped shutters are tailormade to fit perfectly, every time.
What are plantation shutters, and how do they work?
These stylish window shutters have angled horizontal slats that can be opened to let in light and air. The slats, sometimes called louvres, slope downwards from the outside. This allows for optimal light and airflow to enter the room. When closed, they do the exact opposite. In fact, closed plantation window shutters do a fantastic job of blocking out light, reducing heat loss and maximising privacy.
The beauty of plantation shutters is the level of control over the amount of light and air entering the room. With a turn of the plantation tilt-rod, the slats can be tilted from fully open to fully closed and anywhere between. Whether you want lots of fresh air and a view, complete privacy, or soft shading, you can adjust your plantation shutters to suit.
Where does the name 'plantation' come from?
The clue is in the name. Plantation shutters were originally installed on the windows of large houses on cotton and sugar plantations in the Southern USA, or the 'Old South'. Back then, the window shutters were placed outside the building to protect it from the heat and the sun. The louvred shutters were perfect for the hot and humid climate, allowing natural temperature control.
Now, we use plantation shutters worldwide, and the shutters are placed inside the home. However, waterproof shutters are also available for the exterior of the home. In the UK, plantation shutters are now one of the most popular, contemporary solutions for window coverings.
Is there a difference between plantation shutters and blinds?
Plantation shutters are made-to-measure and sit inside their own frame, which is fitted to your windowsill or door frame. Blinds can also be fitted to the window recess. However, they don't have their own frame and are lifted up and down by a string.
You'll find indoor plantation shutters fit the window frame seamlessly while still giving you the option to open and close the slatted panels as you wish. With blinds, the individual slats are held together with string rather than attached firmly to a frame.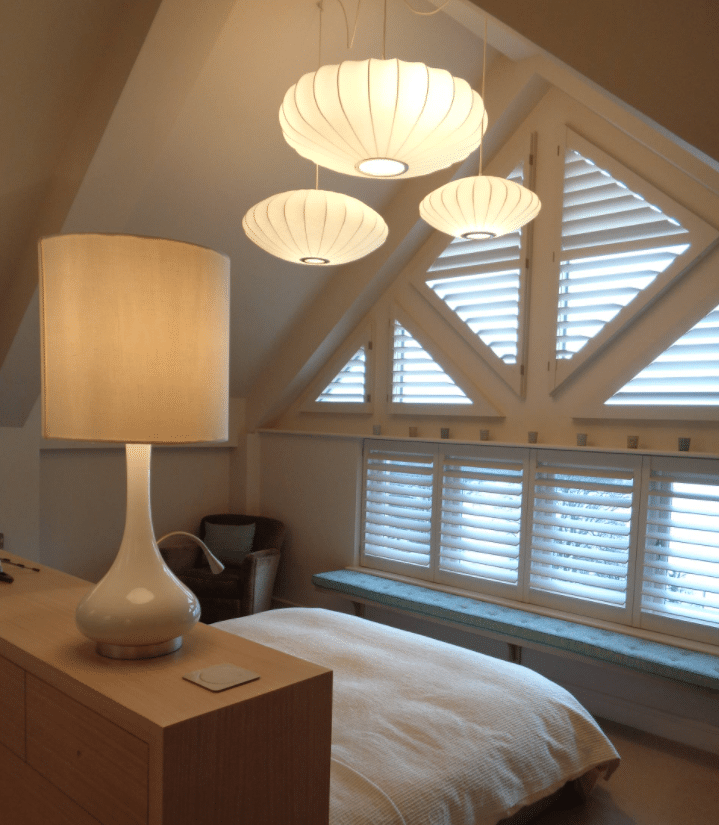 Which type of windows will plantation shutters fit?
This type of window shutter is highly versatile. They can be installed on almost every kind of window. The plantation shutter bay window option is a very popular choice, as the shutters can be mounted to suit the shape of the window. In this way, the shutters retain the original outline of the bay rather than masking it with curtains. Bay window plantation shutters are the best way to preserve the integrity of your period home.
Depending on your window, you can choose from various styles. Whether you want the flexibility of tier on tier shutters or prefer the boutique look of café style shutters, you'll find that plantation shutters are infinitely flexible. Full height shutters are also a practical and attractive option.
You can also have plantation shutters for sliding doors. If you're looking for a covering for your sliding and bi-fold doors, this window shutter is a sleek and practical solution. Sliding plantation shutters can be installed on tracks to screen larger glazed areas, such as conservatories and office partitions.
What are plantation shutters made of?
Our wooden plantation shutters are made from the finest quality solid timber. Wood is the natural choice for traditional shutters, being both beautiful and resilient. Driftwood shutters are also available for a less polished feel.
These wood plantation shutters can be finished in several ways; they can be painted, sandblasted or left to show the natural beauty of the wood. Stained shutters are a fashionable option and come in a variety of colours. We can also offer a variety of alternative finishes, including fabric, faux leather or faux suede coverings.
Do they come in different colours and finishes?
Wooden plantation shutters can be painted in any colour you choose to suit the style of your home. White plantation shutters are the most popular option, giving a crisp, fresh look. White window shutters and lighter colours will give a brighter feel to your room. They also benefit from not drawing undue attention to the shutters, allowing them to subtly blend into the surroundings.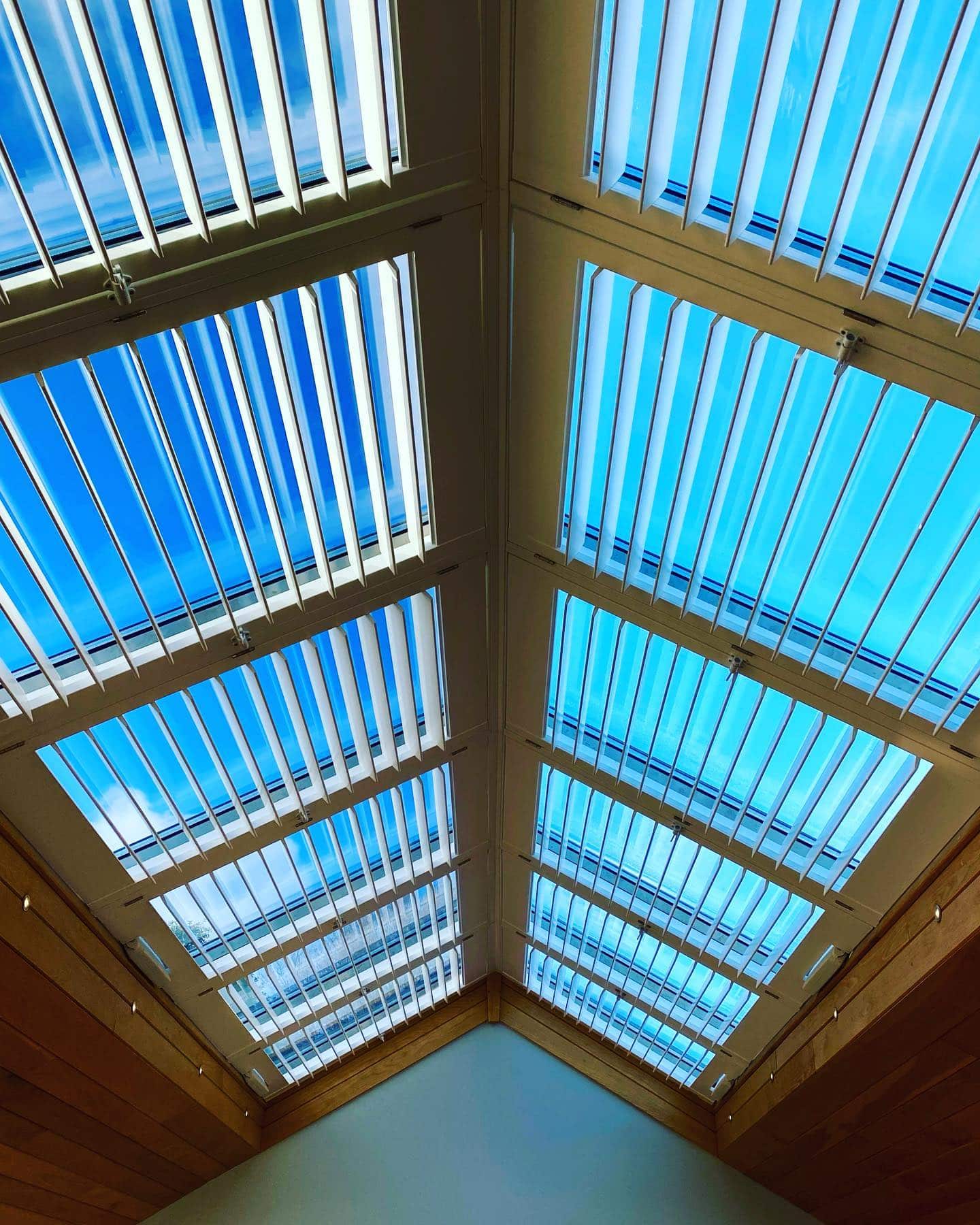 Are plantation shutters easy to clean?
Plantation shutters couldn't be easier to keep clean. In comparison to curtains, they win hands down.  There are no pleats or folds to gather dust, no need to wrestle them down from the curtain rod, and no trips to the dry cleaners.
All your plantation shutters need is a quick dusting with a cloth or feather duster. You can even use a hoover to dust off your shutters –remember to use the soft brush nozzle to avoid scratching. Got some stains or sticky fingerprints? A simple wipe with a damp cloth will have them looking as good as new.
Are plantation shutters good at keeping in the heat?
Yes, indoor plantation shutters are well known for their ability to retain heat in a room. The closed shutters provide a good barrier from draughty windows and doors. For this reason, plantation shutters are an ideal option for homes with single glazing. Research by Glasgow Caledonian University confirms this, concluding that timber shutters reduce heat loss by 51%.
Coming from the hot, humid origins of the Deep South, you'll find plantation shutters have remarkable properties for keeping heat out of a room as well. In hotter weather, your closed shutters will reflect the sun's heat, keeping your room temperature cool and comfortable. Room darkening shutters are a popular choice for bedrooms and warmer climates.
What style of home do plantation shutters suit best?
You'll find plantation shutters in every type of home throughout the UK. Their stylish finish complements buildings from every era. You'll find them in Victorian, Edwardian and Georgian homes. Bay window plantation shutters are an especially popular choice as the shutter fits the window in perfect harmony.
You'll also find plantation shutters in contemporary properties from the 1930s, 1950s and modern new builds. The natural elegance and subtle styling of window plantation shutters make them an ideal addition to every style of home. Plantation shutters UK are a fashionable choice for all homes.
How much do plantation shutters usually cost?
When looking at plantation shutters' cost, you'll need to consider the height and width measurements of your windows. While you may think plantation shutter prices will work out expensive, the actual cost of plantation shutters may surprise you.
Plantation shutters may appear to be a luxury option, but they will earn their keep. Their fantastic insulation properties will help to reduce heating bills, and they'll also protect your home furnishings from sun damage. In addition, they're incredibly hard-wearing and require little to no maintenance. Ultimately, your plantation shutters are a permanent upgrade to your home and will help increase the resale value.
The cost of plantation shutters UK? Just give us a call to book a free design visit from one of our expert fitters.
Transform your home with shutters