Victorian Window Shutters
If you have a Victorian property, no doubt your windows are one of the prime features of your home. Victorian window shutters are the perfect way to make the most of your beautiful statement windows. While curtains will mask them, window shutters do just the opposite. Our made to measure shutters are crafted for an exact fit and will serve to highlight the period style of your windows.
Find out how American Shutters can transform your home
Five reasons to choose Victorian window shutters
1.      They create a focal point
Victorian sash windows create a beautiful statement for your home, and you'll find that Victorian window shutters help make the most of them. Rather than disguising the shape of your traditional window behind curtains, Victorian shutters accentuate them. A well-made set of window shutters will become the focal point of your room.
2.      They retain the additional space
The real benefit of Victorian bay windows is the extra space they add to a room. That convex curve creates a sense of space and openness, which add the perfect finish to a period setting. However, all this extra floor space is lost when you draw your curtains in the evening. With Victorian window shutters, you keep that vital extra footage.
3.      They're in keeping with the period
A room always looks at its best when you keep the period styling consistent. Victorian window shutters are ideally designed to complement the architecture of the period. Whether you choose our bay window shutters to follow the curve of a standard bay or opt for our shaped shutters, ideal for bow or circle bay windows, you can rest assured they will be the perfect fit, every time.
4.      They blend with your décor
You can choose the perfect finish for your Victorian window shutters at American Shutters.
Our classic wooden shutters are made from the finest timber and can be painted, sandblasted or stained to reveal the natural beauty of the wood. Our white window shutters are often the first choice for period homes, blending seamlessly with your existing décor and furnishings.
5.      They keep out draughts
Insulation can often be an issue with a period property. Older style windows can be draughty and the source of excessive heat loss. This is where Victorian window shutters come into their own. They are particularly helpful on single-glazed windows, providing an excellent barrier against cold draughts on chilly evenings.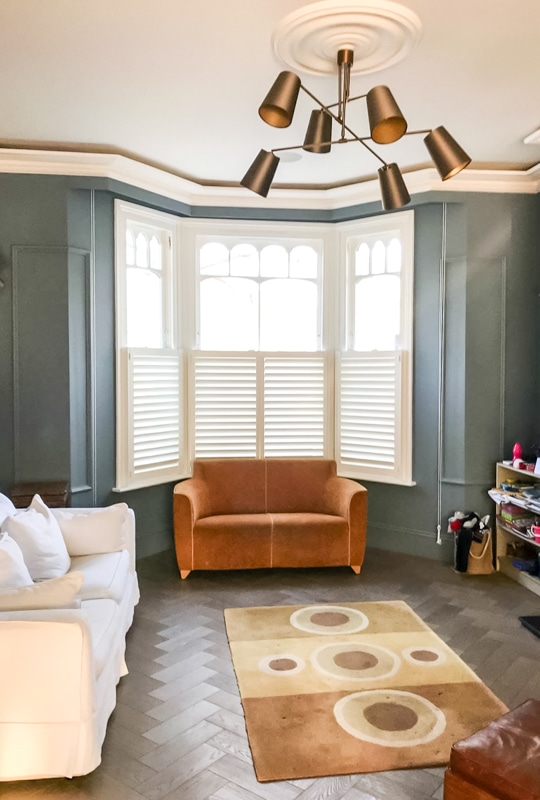 Victorian window styles
The classic vertical-sliding sash window is one of the most prominent features of a Victorian home. These traditional sash windows are often grouped into bays, adding light and space to the room and improved ventilation. In addition, many Victorian windows have ornate stone reveals, following the elaborate style of Victorian architecture.
The result is an impressive statement window that you'll want to make the centrepiece of your home.
Bay window styles
The Victorian bay window can be found in homes across the UK. These classic windows are typically constructed of three to five panels, giving improved ventilation and a wide-angle aspect. There are various styles of bay windows, from the box window with flat sides to the bow window, which features a curved shape. They all project from the main wall, creating additional space inside the home for an attractive bay.
Victorian window shutters are the most common choice of covering for these beautiful windows. They follow the shape of the bay, ensuring that valuable space inside the room is not lost behind curtains. They also provide excellent privacy and light control whilst perfectly complementing the period style of your home.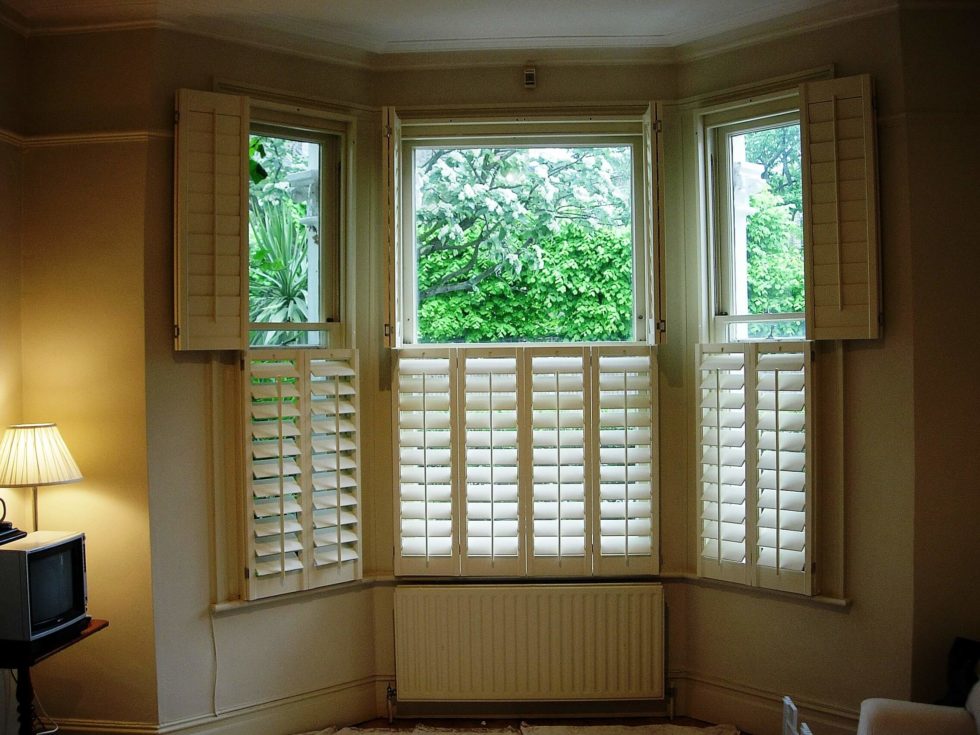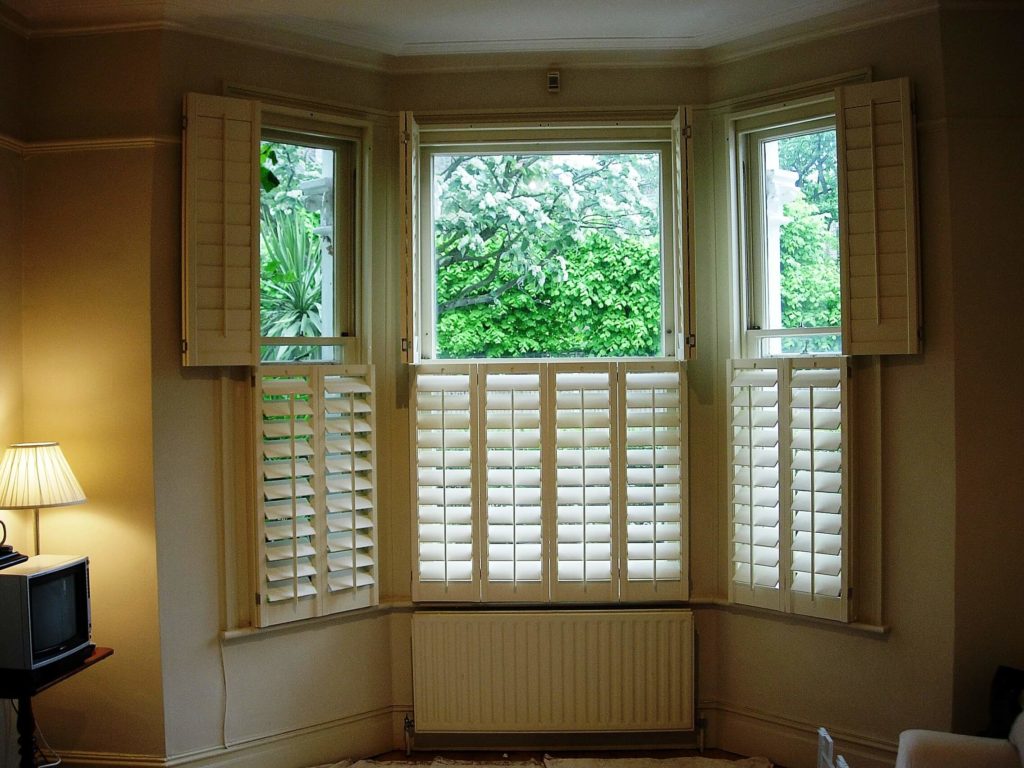 Victorian bay window shutters
Anyone with a period home will agree that the bay window is the room's focal point. The bay adds additional space to the room, with the angled windows creating an open, spacious feel. A bay window opens up the room, allowing light and air to flood in. It's a classic piece of Victorian architecture.
This is why homeowners are reluctant to hide such a statement window behind drapes or curtains. Bay window shutters are a hugely popular choice in the UK, with their prevalence in Victorian properties. Made-to-measure to fit the bay perfectly, they help emphasise the classic lines of the window, bringing out its true beauty. If you have a bow or circle bay window, you'll find that our shaped shutters for curved bay windows are tailor-made for the perfect fit.
The benefits of Victorian window shutters
You'll find that window shutters are a practical choice for period homes. The angled horizontal slats (also known as louvres) can be opened and closed to control the light and air entering the room. Because the slats slope downwards from the outside, they provide excellent control over light and airflow. The slats will effectively block out the light, reduce heat loss, and maximise privacy when completely closed.
For Victorian homes, the real benefit lies in the level of control you have. While curtains are either open or closed, you have many more options with Victorian window shutters. The fully adjustable slats will allow fresh air and daylight to enter the room when fully open. Partially open, you can enjoy gentle shading and light ventilation. And for complete privacy after hours, you can fully close the shutters. 
You'll also enjoy the improved level of insulation afforded by window shutters. If your windows are single-glazed, you'll find them exceptionally helpful. The closed shutters provide an excellent barrier from draughts and cold air and will keep in the heat, whatever the weather. Recent research by Glasgow Caledonian University suggested that timber shutters could reduce heat loss by over 50%.
Victorian shutter styles
There are many styles to choose from when it comes to window shutters. You may prefer the traditional full height shutters that cover your windows completely. These are ideal for tall period windows and are particularly suitable as bedroom shutters. If required, you can opt for our exclusive room darkening design for a complete blackout even at the height of the day.
Our tier on tier shutters are a very fashionable choice for Victorian window shutters. The two-tier system works particularly well for the sash window style and allows you to operate the top and bottom sections independently. Alternatively, you may prefer the boutique look of café style shutters, which only cover the lower half of the window. This allows light and air to flood through the top of the window whilst giving you privacy and light control on the lower half.
You can also choose the style of shutter which will most suit your interior décor. The traditional shutter style has classic louvres and a tilt rod to open and close the slats. This is a very popular choice for period homes. However, you may find the more modern portabello shutter is better suited to your style. This minimalist design has a hidden tilt mechanism, giving a clean and contemporary finish.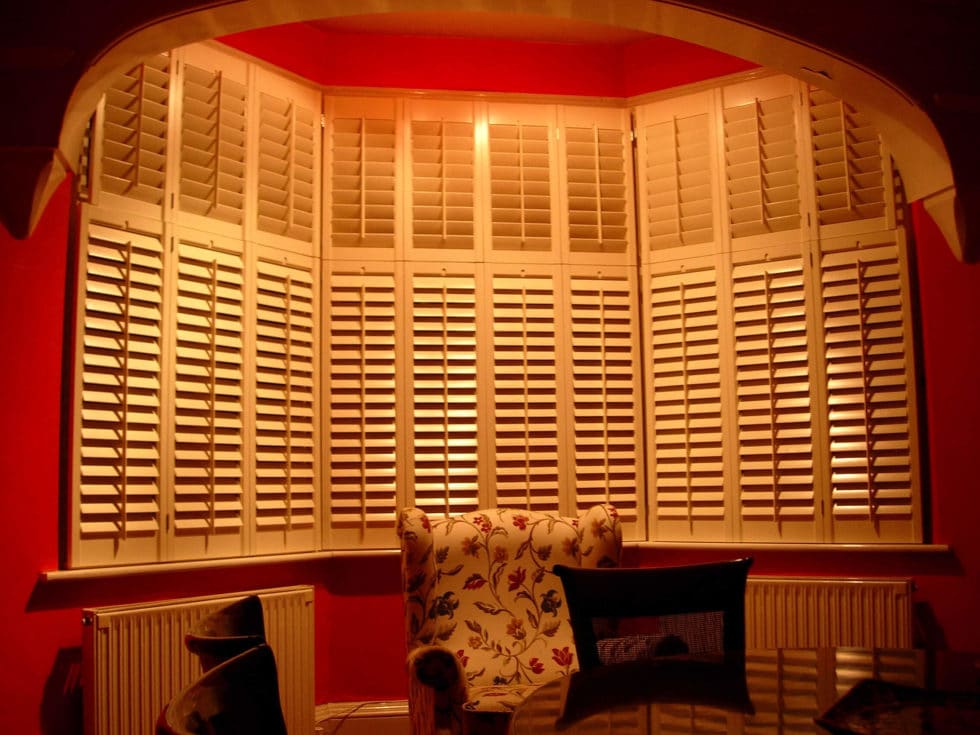 Victorian window shutter finishes
If you have a period home, you'll want classic wooden shutters to complement the character of the building. Wood is the ideal choice for traditional shutters, providing an elegant finish and classic styling.
Our wooden shutters are made from the finest quality solid timber and are both resilient and beautiful. They can be painted, sandblasted or finished naturally to reveal the organic beauty of the wood. Stained shutters are a popular choice for period homes, and you can select the tone of the wood to match your existing furniture and flooring.
Alternatively, you could opt for a painted finish for your Victorian window shutters. We find that our white window shutters are the most popular option for period homes. Shades of white and lighter tones give a bright feel to the room and blend seamlessly with the surrounding décor. However, you can choose any colour for your shutters, and we will carefully match the shade to your specification.
Transform your home with shutters