White Window Shutters
As the ultimate in neutral colours, white window shutters will complement any home.
Whatever your style, white shutters blend in seamlessly. They bring brightness into your room, creating a crisp, fresh feeling that's full of light and space.
Find out how American Shutters can transform your home
White window shutters – a popular colour?
When it comes to window shutters, there are many choices of styles and materials to choose from. However, one element remains eternally popular and that's the colour white. White has been the best-selling colour for window shutters across the decades. This trend has been unaffected by changing interior fashions, new building styles or even celebrity influence. It seems that white window shutters will always be the most popular choice. The classic yet contemporary look is hard to beat.
Are white window shutters in fashion?
Yes. And it seems they will remain at the top of every interior designer's style sheet. Colour trends will come and go, wallpapers will take over from plain walls, carpets will replace wooden floors, but white window shutters will keep their appeal. Why? Because they're timeless. They blend in effortlessly to every new trend that appears in your home, working in harmony with your revamped look.
Window shutters, white or otherwise, are renowned for keeping their style credentials. And it looks as though they're becoming more popular as the years go by. Research from IMARC suggests that the market for shutters is only going to increase over the next few years, driven by rising consumer investments in building aesthetics and décor. White shutters UK – they're going to be big news. So, if you're looking for a sound investment, white window shutters are an excellent choice.
Which style of shutter works best in white?
White works beautifully for every style of window shutter. Whether you're thinking of the ever-popular plantation shutters, or considering bijoux café style shutters, white will always be your go-to option. You'll also find white is the most popular option for both tier on tier shutters and full height shutters. White gives a classic, crisp finish to every style of shutter.
You'll find white is a great option for solid shutters as well. While darker colours can bring a heavy feel to the room, white will brighten and lighten the atmosphere, even when the shutters are closed. This also goes for room darkening shutters, which benefit from the illuminating properties of clean, bright white.
Will white shutters suit my room?
White will complement any style of décor, from elegant furnishings to pared-back minimalism. The classic look and crisp lines of traditional white window shutters add a tranquil, welcoming feel to any room. The simplicity and adaptability of this colour choice mean it will work alongside any interior design direction. Portobello shutters, with their understated, modern design, work particularly well in white.
The colour white can also make your room feel more expansive. It will open up your room more than any other colour, giving a clean, airy feel to the space. For this reason, white shutters for windows are a particularly great choice for smaller rooms.
It's also worth considering the colour of your windowsills. As most homes have white sills, it makes sense to match your shutters with your windowsills to avoid too many colour clashes. White window shutters, indoor or outdoor, will always be the first choice for this reason.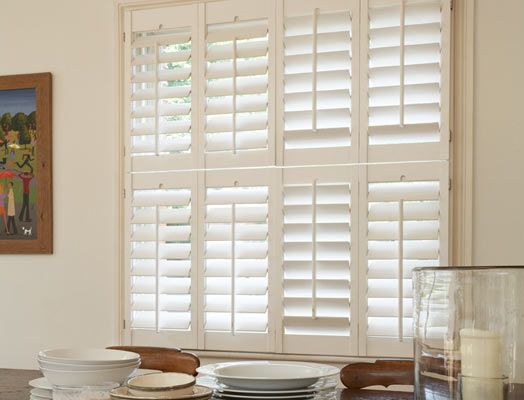 Are white window shutters easy to clean?
You may think white is a difficult colour to keep clean, but not when it comes to window shutters. Unlike fabric, the surface is surprisingly easy to keep clean and fresh. Most of the time, you will only need to run a dry cloth or duster along the slats. If there are any marks or stains, a quick rub with a damp cloth will easily remove these.
You'll find white wooden shutters, interior or exterior, are remarkably low-maintenance and will keep looking good for years to come.
Will white window shutters keep the room cool?
Window shutters are well-known for their ability to keep the heat and sunlight at bay. The louvres can be tilted to let light, but at the same time, they can be angled to block out sunlight. This not only keeps the room cool. It also prevents the sun from bleaching your flooring and furniture.
White shutters are even more effective. Lighter colours will reflect heat, while darker colours will absorb it. Therefore, your white window shutters won't absorb the heat and carry it into the room. Instead, they'll reflect it away, keeping the shutters and therefore the room significantly cooler.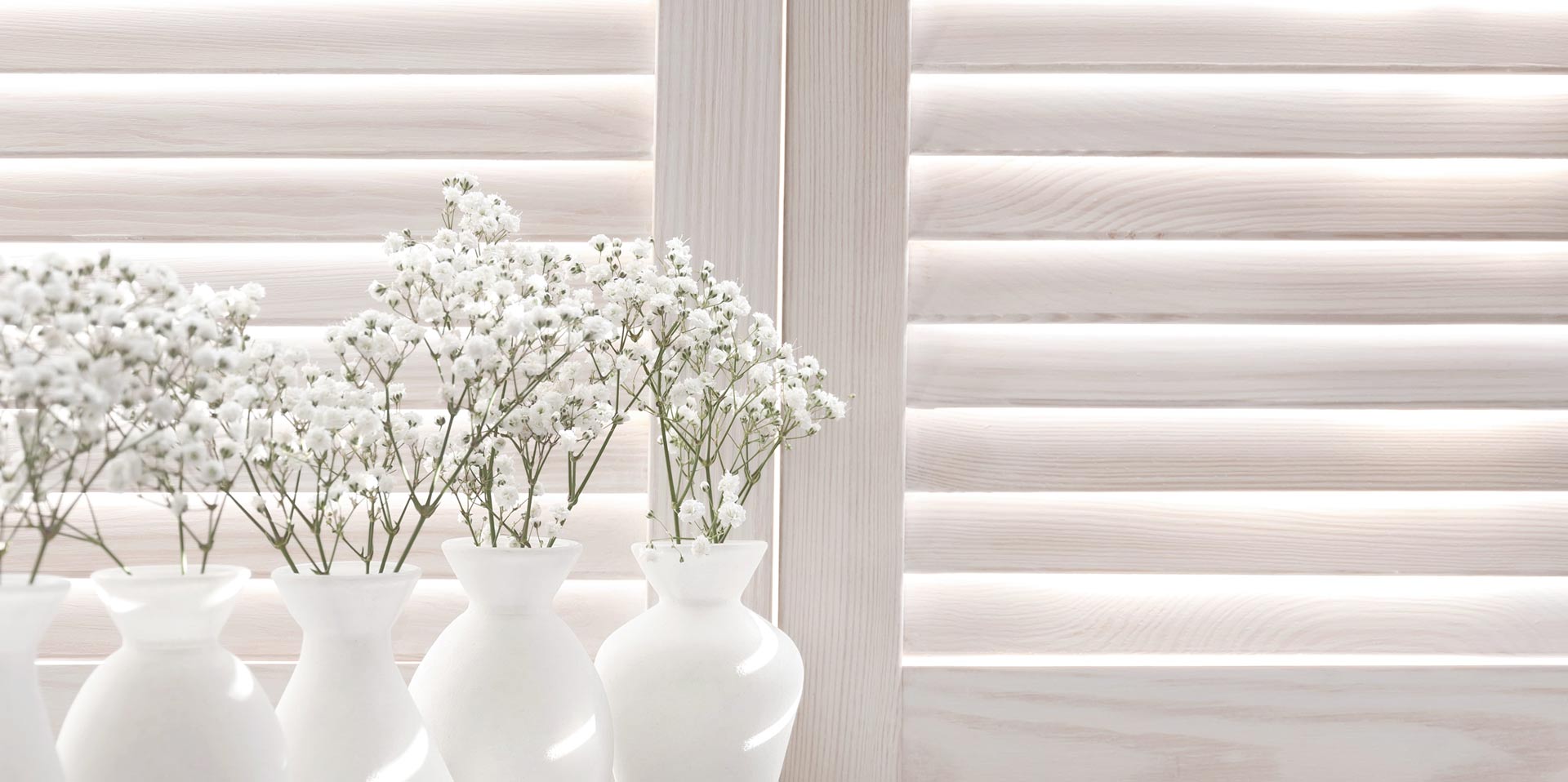 What other colours are available?
Just because white is such a popular colour, it doesn't mean you shouldn't consider other options. While white window shutters are the first choice in the UK, there are many variations. The paler shades are very fashionable at the moment: off-whites, creams and greys. These classic shades will give your shutters an elegant, timeless look.
You can also consider different stains and finishes. Stained shutters are ideal if you're looking to bring out the natural wood grain finish. Staining gives a natural look that makes the most of the beauty of the wood. It also protects it against sunlight and moisture damage. There are main wood stains to choose from, including more weathered finishes for that rustic feel. Driftwood shutters are a stylish option that work well with staining.
How much do white window shutters cost?
As you are not requiring a specialist finish or colour shade, white shutters are one of the most economical choices of window shutter. Besides, you won't need to change the shutters when you decide to redesign your room. As white complements every colour scheme, your shutters will work whatever you choose. This makes them the perfect long-term investment for your home.
Interested in finding out the cost of white window shutters? Give us a call to organise a free design visit from one of our experts.
Transform your home with shutters