Cafe Style Shutters
When it comes to versatility, cafe style shutters are hard to beat. These half-height shutters cover the lower half of your window, leaving the upper half clear for natural light to flood in. Perfect for rooms situated on busy streets, cafe shutters offer privacy from passers-by whilst still providing plenty of natural daylight and an outside view.
Find out how American Shutters can transform your home
Five reasons to choose cafe style shutters
1. They let in the light
As cafe window shutters cover just the lower section of the window, they're the perfect way to allow light into your home. The upper half is left completely uncovered for daylight to stream into the room. It's also easy to open the window on warm days to allow the flow-through of fresh air through the uncovered section. If you want a home full of natural light, cafe style shutters are the answer.
2. They give you a view
Cafe style shutters give you the best of both worlds. You'll be able to look out of your window and enjoy the outside view whilst enjoying privacy from passers-by. With curtains, it's an all-or-nothing choice; open or closed. With cafe shutters, you don't have to make a choice. If you don't want to shut the outside world away, cafe shutters will let you enjoy the view unhindered.
3. They maintain your privacy
By covering the lower half of the window, cafe shutters afford you excellent levels of privacy. Ideal for rooms situated on busy streets or overlooked by neighbours, you'll find your cafe style shutters keep out prying eyes. With only the upper part of the window left uncovered, you can go about your business in complete confidence that you're not being observed by the outside world.
4. They're perfect for period windows
Cafe shutters are the ideal complement for period windows, such as bay and sash styles. The top of the shutter sits at the midway point of the window, making it a natural fit for this period style. With the upper half of the window left uncovered, your beautiful statement window will still be the centrepiece of the room. Ideal for Victorian, Georgian and Edwardian homes, traditional cafe style shutters tick all the boxes.
5. They're chic and continental
Traditionally found in Parisian cafes and bistros, you'll find your cafe shutters lend an air of sophistication and style to your home. Our cafe style shutters are available in a range of colours and finishes to suit your interior décor. Whether you opt for classic café white or a natural stained wood finish for a bohemian feel, you can be sure your shutters will add an undeniably chic feel to your room.
What are cafe style shutters?
Cafe shutters only cover the lower half of your window. This leaves the top half clear to allow natural light to enter the room. These practical window shutters give you the best of both worlds. You get privacy from passers-by but can also enjoy a bright, sunny room. Cafe style window shutters are a smart and stylish solution for your home, particularly if you live on a busy street.

Where does the name 'cafe shutters' come from?
These half-height shutters are traditionally seen in Parisian cafes and restaurants. As such, they have a typically French look that adds a chic, continental feel to your room.
The reason they're used in cafes? It's all about the magical mix of light and privacy. As most cafes are situated on busy streets, the need for privacy is high. Customers can enjoy their coffee or meal in peace from the outside world but still benefit from the light and sunshine flooding in through the upper half of the window.
Are half window shutters the same things as cafe shutters?
Yes, this is another term that is commonly used to refer to cafe style shutters. The traditional cafe shutter is a half window shutter designed to cover the bottom section of the window only. The upper half of the window is left clear, allowing natural light to stream through. They have fantastic kerb appeal and give that all-important element of privacy for houses facing busy roads.
How well do cafe style shutters work with bay windows?
Cafe shutters are ideally suited to bay windows. As bay windows are such a light-enhancing feature, it is a shame to hide them behind heavy curtains and drapes. A half window shutter is an ideal solution to highlight your traditional bay window. The cafe style shutter will give you the privacy you need on the lower half and still allow you to enjoy the beauty of your bay windows, letting the light shine in as intended.
The styling of the shutters is also ideally suited to Victorian and Edwardian homes, blending in seamlessly with the period features. This makes cafe shutters one of the top choices in the UK.
Do cafe shutters work with sash windows?
Yes. Cafe style shutters will fit beautifully in your traditional sash windows. Commonly found in Victorian, Georgian and Edwardian terrace properties, the original box sash window is complemented perfectly by cafe shutters. They offer a stylish alternative to net curtains, giving privacy, insulation and light. Whether you choose traditional or portobello shutters, they will add a chic, sophisticated finish to your room.
As we make all our window shutters to order, you can rest assured that your cafe shutters will fit your sash windows to perfection.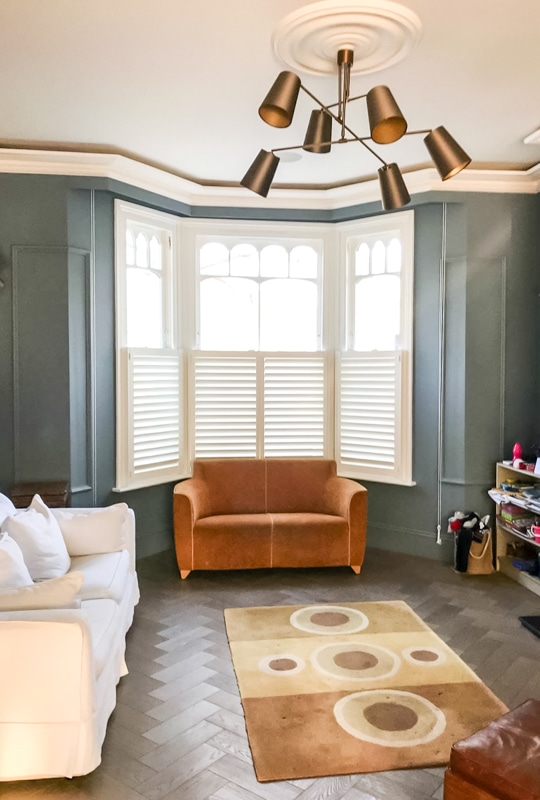 Is it true that cafe style shutters let in more light?
Yes, this is one of the main reasons people opt for cafe shutters. While full height shutters give some flexibility to the amount of light and air entering the room, the cafe shutter provides optimal daylight. Tier on tier shutters provide even more flexibility to the amount of privacy and light required, but none match the cafe style shutter for the full natural light experience.
The benefits of natural light have been well-documented. From improved sleep to increased vitamin D and the avoidance of seasonal depression, daylight is a proven boost for the system. However, as Architect Magazine states, people in cities spend up to 90% of their lives indoors. It's time to let in the light.
Do cafe shutters help to maintain your view?
This is one of the main concerns about shutters. People worry that they will lose the view from their windows. However, even if you're installing room darkening or solid shutters, shutters, this doesn't need to be the case. The fact is, window shutters are incredibly flexible and can be endlessly adjusted to suit your needs.
However, it remains true that cafe style shutters will, by design, retain your view of the outside world. You'll have the total privacy afforded by the lower-level shutters and still be able to catch a glimpse of the passing view.
How much privacy do cafe style shutters provide?
If you want absolute privacy, you can keep the lower slats of your cafe shutters completely closed. This will ensure that passers-by will be unable to see into your home. The beauty of half window shutters is that you'll still keep that airy, bright feel, even though the shutters are completely closed.
It is worth remembering that you may need to add curtains for total privacy in the evenings. For this reason, cafe shutters are not recommended for bathrooms or ground floor bedrooms.
Which rooms are best for cafe shutters?
Cafe style shutters are particularly suited to communal rooms such as kitchens, living rooms, lounges and studies. Any front facing room which overlooks the street or neighbouring properties will benefit from cafe shutters. They are also ideal for first floor bedrooms, which are not overlooked from above. Combined with curtains, this can be the perfect solution for privacy and natural light.
Half window shutters are a popular choice for offices. They give staff privacy from passing traffic while also allowing in daylight for a pleasant working environment. Cafe style shutters UK are a contemporary yet practical solution for a range of office spaces.
Is it possible to combine cafe style shutters with curtains?
Yes indeed. This is a very popular option with many homeowners. The practical nature of cafe style window shutters means they work beautifully in conjunction with a range of window dressings. White window shutters are a fashionable colour choice. This means they will blend with any colour scheme or interior design style, allowing you to put your personal stamp on the room.
Do cafe shutters cost less than traditional full height shutters?
When considering the cafe style shutters price, it's worth noting that they are less expensive than full height plantation shutters, or tier on tier styles. However, this price point should not be your only reason for choosing cafe shutters. The real beauty of these versatile shutters lies in their ability to combine privacy and light to maximum effect.
Transform your home with shutters