Room Dividers
When you're thinking about shutters, you may think only of window shutters. However, shutters are also a convenient and stylish way to divide up large rooms and office spaces.
Sliding or fixed room dividers will section up your space, giving you an extra private area without the cost of building an expensive extension.
Find out how American Shutters can transform your home
Room divider shutters
If you're looking for ways to make your home work better for you, room dividers may be the answer. Our room divider shutters will transform one big room and give you two more conveniently sized living spaces. In addition, you'll have a flexible space that adapts to your needs. Room dividers can be folded back against the wall when a larger space is required, for parties or family gatherings. Choose from solid shutters for maximum privacy or louvred plantation shutters to allow for light and air to circulate naturally.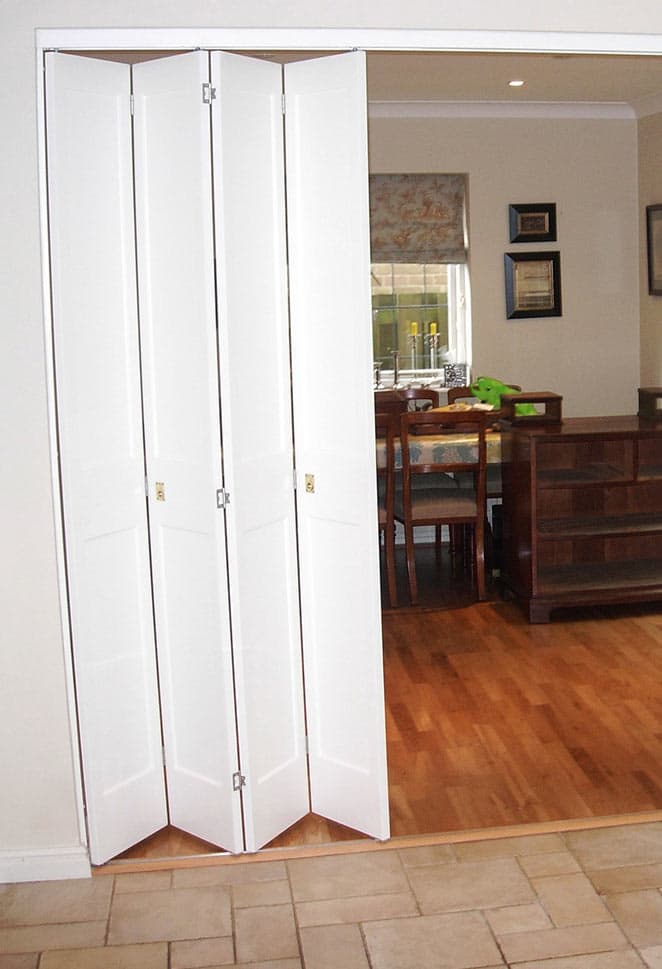 Room divider trends
It's called 'broken plan' living. The new trend for partitioning up open-plan homes into more personal, private spaces is taking over. With more of us now working from home, the desire for personal space for office, study and leisure is at a premium. People are dividing up their homes and creating multifunctional spaces where parents and children can co-exist more easily.
A recent report from John Lewis revealed that one in five of their customers are reorganising their open-plan space to accommodate different activities, and plan to spend between £1,000 to £3,000 to achieve this. Whether you're looking at room dividers screens, sliding room dividers or the fixed room dividers, 'broken plan' living is an increasingly popular solution for UK homeowners.
Room dividers vs extensions
By using wooden shutters rather than building a new wall or a new room, you'll be saving time and money. When compared to building an extension or an interior wall, shutter room dividers are by far the most cost-effective option. There's no need to worry about planning permission, top-up mortgages or the hassle of moving out for the rebuild. You'll also have a beautifully stylish solution that blends with your interior décor and gives a sophisticated finish to the room.
Room dividers ideas
There are many ways that shutters can be implemented as effective room dividers. They are ideal to divide up a large living room, giving you a separate dining space and living area. However, when you wish to host a full party or invite family over for the holidays, folding room dividers can be pulled back to give you the full space once again.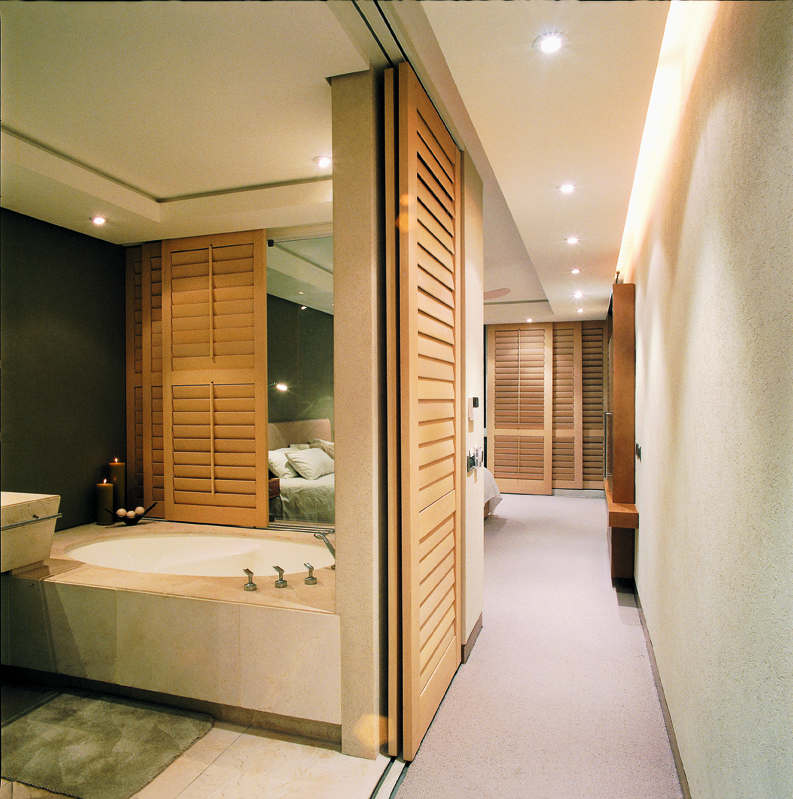 Full height shutters are perfect as a natural divider for a bathroom or ensuite, providing that all-important privacy without the cost of building work. It's a less intrusive solution than a solid wall, especially for smaller homes, and allows natural light to enter the room as required. Here at American Shutters, we provide a range of water resistant shutters that are ideal for wet rooms and bathrooms, guaranteed not to warp however humid the conditions.
If you work from home, consider using internal room dividers to create a secluded and peaceful zone that is separated from the rest of the busy household. Room divider screens are also ideal for creating children's play areas, sectioning off a children's-only space for noisy and messy playtimes.
You might also want to think about using bedroom shutters to fashion your own personal walk-in wardrobe. Our bespoke, sliding room dividers will give you a private space for the ultimate fashionista's dream.
Room dividers are an ideal solution for kitchens and utility rooms. Whether you want to close off the kitchen area from the rest of an open-plan space, or hide away the washing machine in a utility room, traditional or portobello shutters will give you a subtle partition that blends in beautifully with your surroundings.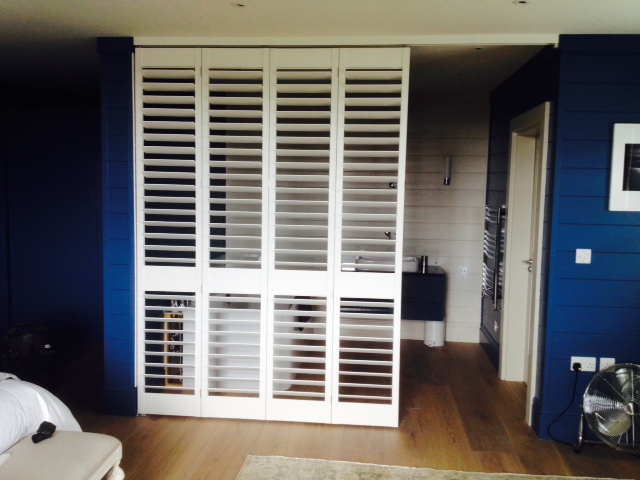 Sliding room dividers
If you're looking for maximum flexibility, sliding room dividers are the answer. With a sliding shutter, you can cut your room in half and dedicate a different purpose to each side. However, when required, simply slide back the room divider and your original large space is available for use once again. A hugely popular choice in the UK, the sliding room divider gives you the best of both worlds.
Fixed room dividers
Alternatively, you may wish to opt for a more permanent solution to your privacy needs. Fixed room dividers will give you a robust and solid barrier to section out your home. You can use fixed wooden shutters anywhere in your home, whether you wish to divide up a large living area or provide a quiet space for children to get on with their homework in their bedroom. You may want to consider using tier on tier shutters, which gives you the option of having the shutters partly open. This is ideal for games rooms, where you can keep an eye on young children playing.
Internal room dividers
We offer room divider shutters in a range of finishes and colours to suit all homes. White window shutters are always a best-seller, as a neutral shade that blends into all styles of interior décor. However, we can match your room dividers to suit any paint shade your choose, ensuring that it matches perfectly with your existing décor.
Room dividers can be supplied as stained shutters, allowing the natural beauty of the wood to show through. Our driftwood shutters are also a popular choice, with a soft, weathered finish to suit the shabby chic style. However you want your internal room dividers finished, you can be sure that they will complement your home beautifully. Ultimately, our room dividers are designed to make your living space work better for you and your family.
Transform your home with shutters